CLASS OF 1967 | 2022| FALL ISSUE
Classmates,
I did not make it to our 55th Reunion, but I sent a query out on the list serve to see who did, and what they could tell me about it. I did not get any emails about the reunion, so I conclude that either no one attended or that no one was willing to go public about the wild debauchery that took place. I did, however, get a cryptic email from Bob Dyer. For those of you unhappy where you are, and thinking of a nice place to retire, here is what Dyer wrote: "August issue of Kiplinger's magazine lists Middletown, Connecticut, as one of seven great places to retire."
Meanwhile, on the news front, I can tell you that Jim Kates, holed up in southwestern New Hampshire ("in idyllic seclusion"), published two books in the spring of 2022, one a translation of poems by the Russian poet Mikhail Yeryomin (Sixty Years: Black Widow Press), and the other a book of his own poems (Places of Permanent Shade: Accents).
And another Jim, Jim Cawse, wrote to tell me that he had retired at the beginning of 2022. He closed his consulting firm, Cawse and Effect (great name!). The company of 12 years worked with various other companies on a variety of problems, ranging, as Jim put it, "from plywood adhesives to passenger traffic through Gatwick Airport." At the time he wrote (February 2022), he was waiting to have a knee replacement, but his local hospital was full of COVID patients, so he was not sure when he would be able to have the surgery. In fact, it took a while, but he now has had the knee replaced, and hopes to be cross-country skiing again soon.
George McKechnie, a retired clinical psychologist, has sold Axiom Home Tech in Monterey, California. Started 23 years ago, it specializes in custom audio and video design and installation (including home theaters). He now plans to devote his time to two new web-based businesses—one that helps consumers understand smart home technologies and how they can be custom-tailored to their needs, plus another business that matches people for friendship (not dating). He lives in Carmel with his wife Dee, who is also a retired clinical psychologist.
I saw the following in the Wesleyan Connection about Bill Klaber: "According to the Webby Awards, The MLK Tapes, a podcast written and hosted by William Klaber '67, is the recipient of a 2022 Webby Award in the Best Limited Series category. For the past two years, Klaber has been working with Tenderfoot TV and iHeart Media on the podcast, which takes a deep dive into the murder of Dr. Martin Luther King Jr. (May 1)."  I listened to this one-hour podcast. I recommend that you check it out. It is dynamite.
As those of you keeping close track are aware, in recent sets of class notes I have taken the liberty to write about some guys in the classes behind us (Bud Smith, Gary Conger, John Wilson, all '66) and ahead of us (Brian Frosh '68). The 1966 class secretary has accused me of poaching. Here I continue to poach by telling you that my wife (Lisa Young) and I spent four days at a beach in South Carolina with Rick Voigt '68, and his wife Annemarie Riemer. Rick, now retired from practicing law, has been teaching classes at Wesleyan at the Wasch Center since 2015. Among the titles of the classes he has taught are The Effort to Build an Affordable American Middle Class Home: A Design and Social History, and Diego Rivera, Frida Kahlo, and Edsel Ford: Two Communists and a Titan of Capitalism Confront the Realities of the Modern Industrial Workplace and Make Great Art. Rick has published a novel, My Name on a Grain of Rice (Atmosphere Press, 2021), which draws among other things on his work as a labor lawyer who once worked for OSHA.
More poaching: Bill Dietz '66 (aka Doctor Doctor Dietz) received an honorary degree from McGill University for his work on nutrition and obesity. You can see him on a YouTube video, decked out in fancy robes, giving his super honorary degree speech to the faculty of Agricultural and Environmental Sciences at McGill (his beaming family in the front row) if you Google "Dietz" and "McGill" (or go here: https://m.youtube.com/watch?v=9V-LR9VxBy4).
And, finally, this just in from Ed Simmons: Ed, a resident of Yarmouth, Maine, became the new board chair of the Natural Resources Council of Maine. He succeeds Maria Gallace '84, a resident of Yarmouth. Founded in 1959, the Natural Resources Council is the largest environmental advocacy organization in Maine, with more than 25,000 members and supporters. Its mission is to protect, restore and conserve the nature of Maine, now and for future generations.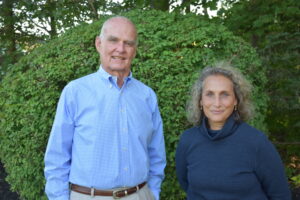 RICHIE ZWEIGENHAFT | rzweigen@guilford.edu