CLASS OF 1960 | 2022 | FALL ISSUE
Nici and John Dobson took trips to Bora Bora, French Polynesia, Kauai, the Grand Canyon, and Sedona, Arizona, and then spent a month in Virgin Gorda, British Virgin Islands.
Peggy and Dave Hale spent a memorable 12 days in Iceland in May. More recently, they enjoyed a matinee at the Shaw Festival in Niagara-on-the-Lake, Ontario.
Congratulations to Jay Levy! For World AIDS Day on December 1, 2021, the University of California–San Francisco honored him for the work conducted over many years by his research group on HIV/AIDS. At the event, Dr. Anthony Fauci, director of the National Institute of Allergy and Infectious Diseases, spoke highly of their achievements. A video of the ceremony is available on YouTube.
Dave Major and son Graham both presented papers at the virtual International Conference on Sustainable Development in September.
Bill Masterson reported that Linda, his wife of 61 years, passed away on February 27, 2022. She visited Wesleyan several times during 1959–60 before they tied the knot on August 6, 1960. She will be remembered for her devotion to family and love of music. My condolences to Bill and his family.
Loren H. Pate Jr. passed away on July 1, 2021. His most cherished memories of Wesleyan were of his fraternity brothers at Delta Tau Delta. He also found satisfaction in helping to resurrect the Wesleyan Film Society. Most of his career was devoted to hotel management. My condolences to his relatives and friends.
Alan S. Roberts passed away on April 18, 2022. As a tennis player at Wesleyan, he had an unsurpassed singles' meet record of 37–1 over four years. He was inducted into the Wesleyan Athletics Hall of Fame in November 2022.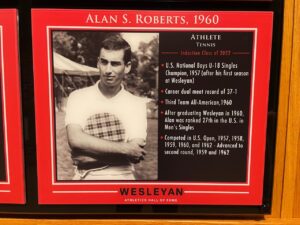 In addition, Al won the U.S. Tennis Association's National Junior Boys' Championship in 1957. He is survived by two sons (also tennis players), Daniel and Michael, and three grandchildren: Esme, Ryan, and Kensington. My condolences to his family and friends.
SAL RUSSO | salrusso60@outlook.com
2700 Kentucky St., Bellingham, WA 98229