CLASS OF 1959 | 2022 | FALL ISSUE
1959 ARCHIVES | HOME
← 1958 | 1960 →
"There is an eloquence in true enthusiasm."—Washington Irving
The very day that we sent out the note to classmates about updating all the news, especially our continued athletic prowess, Al Brooks won his gold medal in the shot put at the Connecticut Nutmeg and Masters' Games, defeating several younger competitors. Skip said that he and Molly were still tearing down the slopes, slowly. Herb Steiner is fast becoming "king of the pickleball courts" in both Mahwah and Florida, and staying in touch with Messrs. Vander Veer, Ogren, Martin, and Waterhouse, all of whom are well. And finally, Joe Mallory says his favorite sport is now eating!! Well deserved after being a member of the fabulous '59 basketball team.
Charlie Wrubel writes that he is still swimming, though not competitively. He's very excited about Wes's swimming facilities and coach Pete Solomon. Son Bill's ('85) daughter is now at Wesleyan, along with Herb Steiner's granddaughter. Son Rob's ('88) daughter is a junior at Fountain Valley School and has been named to the first team, all-state girls soccer team. Charlie and Myra spent a week cruising in Bermuda with Mark Edmiston '64 and wife Lisa.
News from the Dave Eklund family is that they have bought a beachside condo on Maui. Go team!  Visits with the family and whale watching off Lanai have been major attractions. He said, "Dave Gordon '61 and wife Ginny joined us, and we had fun reminiscing about our days at Delta Sigma."
Paul Hadzima attended part of the Reunion & Commencement festivities in May. He was a participant in a roundtable discussion on the future of the college, hosted by the new College of Education, and attended a great reception afterward.  He was MAT '61 and taught for 36 years.
Peter Rockefeller called to catch up. He left Wesleyan after sophomore year and finished his BA at Columbia. He is married to a ballerina and has two grown daughters and is still working on computer systems for several large clients. Hope he will make it back to the 65th.
Bing Leverich turned 85 on July 31. He is battling Parkinson's, dementia, and a rare disease called amyloidosis.  Luize writes that Bing is doing well physically, walks 3 miles each day, and does calisthenics each evening. They are presently in Boulder.
John and Cyndy Spurdle are back on Fishers Island for five weeks and will have a houseful of children and grandchildren arriving from Scotland, England, Maine, and Montana, so a jolly reunion is planned, after all the COVID problems.  We are still living in NYC for the rest of the year, apart from trips to London, where I am still involved in helping the London Library.  We are having a party in New York to honor Tom Stoppard and his new play Leopoldstadt, which is opening shortly.
Steve Pyle, the tight end now turned painter, is still painting. His subject is various holes on wonderful golf courses, usually to commission. Perhaps this is therapy for a left knee that had too much football and golf.
Dick Cadigan has been on the move post COVID. Saw five of his six kids, plus grandkids, in California, and then off to Deerfield for reunion and Amherst to visit the Cadigan Religious Center. Then to New York to see son John for four days of museum hopping, then Las Vegas to see son Steve and twins, then home to rest!
The long-talked-about banner celebrating the '59 basketball team is now hanging in the Silloway Gym.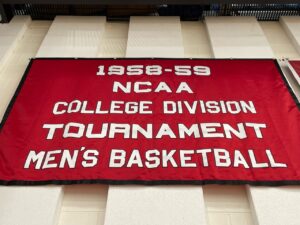 Word from Reverend Cadigan on our 65th:  "65ing and Still Thriving!!"
Don't miss it, spring 2024! More about this in 2023, but put it on your calendar, NOW!
Four sad departures: John Driscoll '62, an honorary member of the Class of '59,after a long battle with Parkinson's disease. Our love to Gina and the family. Ned Lemkemeier, "Mr. St. Louis," who was a labor and employment attorney for 50 years, trusted advisor and counselor to many. Longtime class agent Ted Bromage passed away on September 10, 2022. A line from his obituary sums Ted up well: "Ted was driven by his personal interests, love for friends, and enthusiasm for meeting new people. He always leaned in and helped wherever and however he could." Ted is survived by his wife of 62 years, Joan, a daughter, a son, and six grandchildren. And John Lloyd who departed on September 20, 2022. A silver lining of the pandemic was the creation of a standing Zoom call with his Wesleyan Alpha Delta Phi brothers. He is survived by his children (including Becky Lloyd DesRoches '90) and grandchildren.
SKIP SILLOWAY | ssillow@gmail.com; 801/971-6165
JOHN SPURDLE | jspurdle@aol.com; 212/644-4858