CLASS OF 1957 | 2022 | SPRING ISSUE
Hello classmates, Bob Smith here, and I have agreed to be your new Class Secretary. I'm looking forward to all your emails; the more I get the more fun this job will be. If I can do half as well as Art, I will be happy.
Ed Porter and Lainie are still enjoying life on Heckman's Island on Nova Scotia's south shore. He has been retired from teaching for 20 years and finds his time filled with looking after home, fields, and woods. He uses his chainsaw to pile up about six cords of wood each year, to feed the kachelofen that heats his house. I had to Google that one.
Gordon Wilmot writes that he and Marilyn sold their Bradenton, Florida, condo, in one day, and spent this past winter in their Rhode Island home (without the benefit of a kachelofen). In responding to the request for class notes, he came across his Wesleyan 50th Reunion booklet, a great 85-page publication dedicated to the class of '57, including biographies of most of us. Vic Butterfield is on the cover with a thoughtful charge to the graduating class. Gordon wonders if it has been digitized and resides deep in the Wesleyan Archives. If he finds it, he promises to send us the URL.
John Allison notes the passing of dear friend Sam "Sandy" Bergner. There have been several deaths recently: Claude Brancart, Don Ramsey, Henry Fulton, Rod Henry, Herb Benson, Dave Sanford, and of course Art Typermass. Condolences to all their families and friends.
Also, I learned that Jerry Baker died two summers ago, after a lengthy illness. He was gritty on the gridiron, and a fine outfielder. We once played a round of golf, and he confessed he didn't let all those rules interfere with his enjoyment of the game.
The pandemic has affected us all, but George Willauer and several friends, including John Parkin and John Chaplick, use Zoom every two weeks to stay connected. Their annual meetings in New York and Princeton have necessarily been postponed.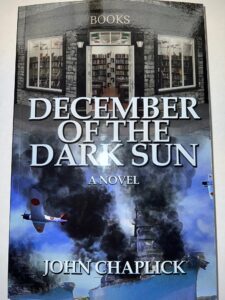 Speaking of John Chaplick, he has a new novel out, entitled December of the Dark Sun.  The jacket blurb looks like it's a great read.
Mark Feldman sends two items of interest:  the sad passing of his Wes roommate Jon Altschuler, and in January, he and Mimi Feinsilver celebrated their 20th anniversary together. Mark has finally retired from teaching at Georgetown Law but keeps busy filing amicus briefs at the Supreme Court and with webinars for the Washington Foreign Law Society.
Jack Goodhue and Jane, his bride of 65 years, are both healthy and living comfortably in North Carolina. Because of all the COVID restrictions, a trip to the grocery store has become a major event. He keeps in touch with fellow Tarheel John Corkran '58, who is a great ambassador for Wesleyan. Jack still writes a monthly business column for Lubes'n'Greases, a print and digital magazine. Give him a read.
Betty and I are enjoying the retirement life on Hilton Head Island. We have lived in the same house for 25 years, which is a record for us. I play a little golf (poorly) and volunteer at the local computer club. I also run the NFL pool at our men's club.
We used to travel a lot, but lately we have been limited to driving up I–95 to visit our daughter in Maryland. She became a grandmother last year, so you can figure out what that makes us.
This May was our 65th Reunion. Unfortunately, we couldn't attend. Our granddaughter graduated from UVA the same weekend, and we committed to be there for the occasion. If you went, let me know the highlights for the next issue of Wesleyan magazine.
If any of you gets the chance to visit Hilton Head, please look us up. We can show you places of interest and where to dine.
Until next issue, Bob.
Bob Smith | hhbobsmith@msn.com