I asked the Wes '80 alums to tell us about their latest milestones, challenges, and insights into life, love, and the pursuit of happiness. And by the way, this isn't a thankless job—I love hearing from fellow Wes grads because we all are doing notable things with our lives after having been launched by an amazing educational institution, and even sharing the everyday is comforting because we're all going through some similar experiences. Wishing my fellow alums all the best for 2023, Jacquie Shanberge McKenna, Class Secretary.
This year, Paul Edwards has found his life dominated by his ongoing struggle with hairy cell leukemia, a rare disease. He noted, "I'm almost done with my second clinical trial at the National Institutes of Health. The first one bought me 12 years. This one has already eradicated the leukemia —levels are undetectable by any test, though that doesn't mean it's entirely gone. I am REALLY looking forward to a return to quasi-normal life in January when the treatment cycle is finally done." Paul is the director of the Program in Science, Technology & Society at Stanford, also co-director of the Stanford Existential Risks Initiative. Gabrielle Hecht, his wife and colleague at Stanford, is a professor of history and nuclear security studies. She studies mining around the world, and issues of waste and discards more generally as well. She finished one book, Residual Governance, and got halfway into another, Inside-Out Earth, during the pandemic and is now back to traveling the world for research. She's about to become president of the Society for the History of Technology for 2023–25. Their son Luka went to college in August, at Sarah Lawrence, where he is ecstatic to be done living at home but also super excited about the really innovative coursework in experimental animation, travel literature, and French colonial and post-colonial literature. Sarah Lawrence almost seems a Wesleyan by a different name! He'll be a writer or an artist—already is one, really.
Jenny Boylan has had a whirlwind year. Her novel, Mad Honey, co-authored with Jodi Picoult, peaked at number three on The New York Times Best Sellers list, and stayed on that list for months. Jenny's book tour took her from Seattle to Orlando, from Portland, Maine, to Houston, from Edinburgh, Scotland to London and many places in between. She saw many old Wesleyan friends during the tour—Steve Mooney and Virginia Pye '82 in Cambridge, Massachusetts, and David Block '81 in New York City. Jenny spent academic 2022–23 as a fellow at the Harvard Radcliffe Institute for Advanced Study, where she is hard at work on a new book, and spending time with the cohort of scientists, historians, musicians, and writers there. She gave the commencement speech at Sarah Lawrence College as well as the College of the Atlantic in the spring of 2022 and received honorary degrees from both institutions—a PhD from SLC and an MPhil from CoA. She says that after 35 years coasting along on her MFA it meant a lot to finally receive the doctorate, even if honoris causa is actually Latin for "not for reals."
Walter Calhoun wrote in at the end of July from Highland Park, Illinois, "which just weathered another madman's tyranny over an innocent public with an assault weapon on a rooftop over our Fourth of July parade. I am presently co-lay leader and stewardship chairman in the North Shore Methodist Church in Glencoe, Illinois. Last Saturday, we handled a funeral for a longtime resident, Peggy Bird, who had recently settled in Hanover, New Hampshire, after a lifetime in Winnetka, Illinois. Peggy was survived by her three children: Tom, Andrew, and Nancy who all spoke most lovingly and openly about Lew Gitlin '79, about the bonds of community and hospitality they were able to form in their formative years across Jewish and Methodist lines. Such positive and glowing comments about Lew Gitlin did not surprise me since I learned much about Lew's outstanding character and empathy when we met at Wesleyan. Lew, wherever you are, please know how much you were missed at Peggy's funeral, but how high you were held in esteem, in your absence, by Tom, Andrew, and Nancy Bird. One month earlier I was able to arrange a small dinner party at a mutual friend's house in Kenilworth, Illinois, which was attended by Andrew Parkinson '80 and Elizabeth Parkinson, who were both so supportive and gracious to me when I came out of my one-month coma and six-month hospitalization after being hit by a car as a pedestrian on May 2, 2002; and after my 32-year-old son Daniel committed suicide while a first-year law student at University of Michigan Law school on November 5, 2019. Andrew and Elizabeth are the epitome of the empathetic couple who always looks out for their neighbors with a well-developed sense of community. It is easy to see why Lew and Andrew were such well-rounded fraternity brothers at Psi U when we were at Wesleyan."
Ellen Haller: "Hi from San Francisco where I continue to love retirement! My days are spent playing pickleball (a new obsession!), riding bikes, and playing women's ice hockey in a local league. (Plus, I do all the errands as my wife still works . . . ) Our son lives in NYC now and supports himself completely as a self-employed magician. He does sophisticated close-up card magic and has a ticketed show in the city. danielroymagic.com."
Over 34 years ago, Tammy Sachs founded Sachs Insights, a strategic research consultancy that drives innovation in product and web development. She is currently the CEO of Sachs Insights and is an instructor at Rutgers University, teaching UX Research—from Co-Creation Focus Groups & Ethnography through User Experience Testing for the Mini-Masters and Advanced UXD Course.Tammy says her Wesleyan heroes are long retired—Jeanine Basinger and Karl Scheibe. Tammy has hired and trained hundreds of alumni.
Retirement in 2018, after over 30 years as a teacher librarian in Connecticut, has not meant slowing down for Cathy Andronik. She's found her dream job: presenter for the Bureau of Education and Research, conducting both live and online seminars on young adult literature (one of the company's flagship programs, What's New in Young Adult Literature, Grades 6–12?) for teachers and librarians around the U.S. She is also an adjunct lecturer in the School of Library and Information Studies at North Carolina Central University, where her favorite course to teach is called Ethnic Materials for Children and Adolescents, exploring the wonderful recent growth of diversity in books for young people. That focus is also present in her application to enter the PhD program at Monash University in Melbourne, Australia; she intends to compare diversity, in particular indigenous authors, and characters, in recent young adult literature from Australia versus the U.S. When she's not doing any of the above, she is enjoying her two Morgan horses, Reny and Gentry; her flock of companion parrots; and her getaway cottage in Midcoastal Maine.
Cheryl and Jim Green P'22 were thrilled to attend their son Mitchell's graduation from Wesleyan in May. Mitchell was a double major in chemistry and earth and environmental science (chem tract). "Wesleyan does a wonderful job with graduation festivities and the ceremony. From the welcome lunch (where Jim and I were interviewed as Wes alums who met the first day of freshman orientation), to the after-graduation celebration, there is nothing like a Wesleyan graduation weekend (including the heat)! It was a great end to a unique four years on campus. We are so thankful to the faculty, staff, and administration for all of their efforts in keeping everyone safe during COVID and giving the students in the Class of '22 the best possible college experience they could have had. It was also very bittersweet for us since we really reconnected with campus during Mitchell's time there. We are looking forward to going to Homecoming celebrations with Mitchell in the future."
Cindy Ryan: It's been a year of changes, living in my own little house next to a lovely watershed pond in Concord, Massachusetts. I am learning beekeeping, loving the challenges and rewards (honey!). Also starting up my third business entity (when many of you are retiring) as a licensed mental health counselor (LMHC) specializing in expressive arts therapy. Hopeful to balance part-time counseling with painting and dusting off music skills on my new guitar.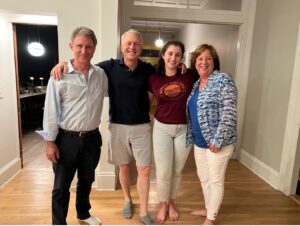 Mark Zitter: I started Zooming with old friends during the pandemic and haven't stopped yet. Scott Hecker, Paul Singarella, and I have a monthly Zoom call that we've come to cherish. We decided to take a cruise to Mexico together and are planning another trip in the spring. Scott is chief scientist for a biotech company and Paul, a retired lawyer, is doing exiting work helping the world deal with water problems and other environmental challenges. Paul Oxholm and I also have been Zooming regularly. He is interim executive director for a museum in his town of Reading, Pennsylvania. Meanwhile, I just had dinner with Irene Chu, who lives in her hometown of Lincoln, Massachusetts. She continues to do freelance design work. Last summer my family rented a house in the Berkshires. We invited for dinner our classmates Daryl Messenger and Matt Penn. Along with my daughter, Tessa Zitter '21, Wesleyan was well represented.  I'm in the process of concluding the Zetema Project, the nonprofit health-care organization I started six years ago. Its graduate fellowship program will live on with another management team. I'm now creating a new nonprofit organization aimed at improving the capabilities of social sector leaders."
Irene Chu lives in Lincoln, Massachusetts, with her wife Cindy and continues to work on her own as a graphic designer. Her youngest just started his first year at Bowdoin and her elder is a junior at Barnard. Irene is in touch with a handful of classmates, including Page Starzinger, who had a poem recently published in the New Yorker.
Page Hill Starzinger: "I'm rubbing words together hoping for fire—and gathering kindling for others: the Starzinger Writing Center is now open at Emma Willard School (Troy, New York), a high school for girls. The kids just attended the Dodge Poetry Festival and chose poets they'd like to invite back to campus. I've endowed three creative writing scholarships/awards named for poet and English professor David Baker at Denison University. One scholarship is for recruitment—because why not recruit writers (not just athletes or science stars), one honors professors, one offers student experiences (mentorships, internships, etc). Remember the William Carlos Williams quote, 'It is difficult to get the news from poetry but men die miserably every day for lack of what is found there'? (I actually disagree about the news–there is documentary poetry—but agree with 'lack of what is found there.') With the government giving $25 billion a year to universities for STEM, 2,532 books being banned just from June 2021–2022, and teachers being underpaid and undervalued (only 17% tenured now), I am doing what I can."
Helianthus (Published in the June 27, 2022, New Yorker issue)
The farmers' market has sunflowers again. It's another
July, and bees scramble over the sticky chocolate
centers. My mother says, Hi, sweets,
but she died two years ago. I see her clearly—
wearing a drip-dry striped boys' shirt, looking straight
at me. There's something she's waiting for. I
can't figure out what it is—never could. Young
sunflowers track the sun until they mature,
then they are stuck facing east. I wonder when
memory is not a haunting, when disappointment is
not unlearned. The florets spiral, a Fibonacci sequence:
each number the sum of the two
preceding. A generation is supposed to be better
than the last, but my father once wondered, staring at
a portrait of his father if sons always disappoint. I
can't remember what I said next, but it wasn't true.
Anne Chamberlain: "At the end of the summer, I completed an EdM in educational policy, organization and leadership at the University of Illinois. This was entirely online and it was most exciting to learn with classmates of all ages and backgrounds from throughout the world. It was interesting to receive a diploma and Medicare card in the same week, but it's been important to put aside preconceptions about aging, education, and work. After a long first career in management consulting, it's hard to believe I am slowly moving toward the end of my second career, working on employment equity at a large university. I am also working with cross-industry organizations on the effective and inclusive use of technology to better match job seekers and employers. And I am still loving my life in New York."
Dr. Andrew J. Kirkendall published his latest book, Hemispheric Alliances: Liberal Democrats and Cold War Latin America, with the University of North Carolina Press. Check out the book at the UNC Press website here https://uncpress.org/book/9781469668017/hemispheric-alliances/.
In Hemispheric Alliances, Kirkendall explores how liberal Democrats sought to create new models for U.S.–Latin American relations that went beyond containing communism. In an age of decolonization and in response to the ideological challenge of the Cuban Revolution, the Kennedy administration introduced the Alliance for Progress, which promised large-scale socioeconomic reform and democracy promotion in Latin America—moral leadership over mere militarism. During the tumult of the Vietnam War in the late 1960s and early 1970s, liberal Democrats, in particular, embraced human rights. Both the Alliance for Progress and human rights assumed a special U.S. responsibility for Latin America and significantly complicated foreign policy making. Kirkendall finds that the Alliance for Progress and human rights emphasis left mixed legacies. This Latin American focus of liberal Democrats was dissolved by the Nixon, Reagan, and Bush administrations who favored a more militant containment of communism. Andy continues to teach Latin American and World History at Texas A&M University.