CLASS OF 1980 | 2020 | ISSUE 3
Alan Jacobs wrote, "I ventured out of my COVID-19 cocoon in NYC to shoot a film in Marfa, Texas. Minimalist artist Donald Judd moved there in the 70's and inadvertently created what is now an odd (and very Wesleyan mix) of artists, cattle ranchers, carpetbaggers, and random oddballs with an official slogan: 'Small town, no hospital.' Reconnected with our classmate Scott Karlin, who has not yet lost his Long Island accent even after multiple decades in Atlanta. Some things never change, y'all."
Best to all from Ken Toumey: "Hello Classmates and Merry Christmas! I am a happy man, enjoying life. I have three children: two are married, one has two kids of her own. They are all  wonderful people who are positive contributors to society who I am grateful for every day. My wife Shari and I just celebrated our 12th anniversary. We both still live and work in New Jersey. I have been taking guitar lessons for the past three years—my six string therapy."   Looking forward to the next part of the journey."   
Demie Stathoplos wrote: "My husband, Dan Stoll, 21-year-old son Alex and I have been living in Newton, Massachusetts, and around the Boston area since 2010, after a six-year stint in Great Barrington, Masschusetts, where I was the health and healing director at Canyon Ranch in Lenox. The 2010 recession motivated a move back to the Boston area, where I was executive director of Pathways to Wellness, a nonprofit acupuncture and integrative health organization. Family health issues led to me resigning in 2015 to care for my aging parents.  I still take care of my mom's financial and health issues, while spending the rest of my time as a climate activist. I speak about climate action locally to my Unitarian church community, to other faith communities and to community groups in my city.  I've also been coordinating the communication team for our Newton Climate Action plan and lead a Climate Task force at our church. I've kept in touch with Nancy Stier and Sharon Grady, and have been Facebook friends with Gigi Peeples, Pam Keon, Betsy Levine and Dana Felt. I'd love to hear from others—especially if you're in Newton or nearby!
From John Singer: "Really enjoyed getting together with classmates through our virtual reunion events. One unanticipated benefit of meeting through Zoom and random assignment to breakout rooms was speaking with classmates who, realistically, I likely would not have spent as much time with had we been together in-person on campus. I also especially enjoyed working with the other members of the Gaiter Team who brought the gaiters to fruition. Perhaps as we eventually return to some type of new normal classmates can send in pictures of themselves wearing their gaiters in interesting local a la Douglas Cannon photos. After a quiet and healthy summer at home in Baltimore, we went to the Aspen area in late August for about three weeks to visit our son, Charlie, who works in finance and project management for the developer of the Snowmass base Village. In our time there we had summer the first week, winter the second week (4″ of snow), and moved to fall in the third week with the aspen tree leaves turning yellow. While my wife continued her law practice remotely and I taught my law courses online, it was a welcome change of scenery and provided opportunities for biking, hiking, swimming and other outdoor activities when not working. While we were out west, after two years in AmeriCorps (and a hurried evacuation from Guam due to COVID-19) our daughter, Amy, started working for FEMA at HQ as the executive assistant to the assistant administrator for field operations. With hurricanes and wildfires, she says it is an exciting time to be at FEMA and she feels she really is doing valuable public service. Though it's not a term I typically use, Karen and I are truly blessed to have kids who are nice people, healthy (physically and mentally), and giving back to their communities in their own ways (Charlie is on the board of a not-for-profit focused on organ donation based in Aspen).  Stay healthy."
Jane Polin, as a NYC-based philanthropic advisor, wrote in about her work on 12 case studies for "Scholarships for Change," a new
candid.org resource for donors:
https://grantcraft.org/content/blog/case-studies-reveal-how-donors-are-changing-the-world-one-scholar-at-a-time/.
Peter Scharf, president of The Sanskrit Library in India shared, "My wife and I took the opportunity of staying home to work to launch on-line courses in Sanskrit and the literature of India through the non-profit I started 18 years ago: The Sanskrit Library https://www.sanskritlibrary.org/courses.html. Twelve students have begun studying with us this fall semester in two courses.  Otherwise, I've been spending the year at the Indian Institute of Advanced Study in Shimla with a fellowship to translate a work in Paninian linguistics. After December, I'll teach again at the International Institute of Information Technology in Hyderabad where I taught before the fellowship began. We just bought a townhouse in Fairfield, Iowa this summer, unpacked my belongings from where they were in storage for the past four years, and now are ready to head back to India.  We plan to spend more time in the comfort of our own home when we get back here next spring."
Jonathan Needle sent in his class notes confession and photo: "Hello to Wesleyan friends and classmates. I am in Houston enjoying taking pictures of nature subjects. Sometimes, it seems nature would like to take Houston back from civilization and development!  Hurricanes are not to my liking. I've been in touch all these years with John Emerich and of course with my fantastic brother Nat Needle '76. I send John photos; he sends me art books in Russian (what a deal for me). John and Nat were best men at my wedding some years back. I am lucky to have two great kids, one in college and one in high school. I practice law in Texas, managing around the pandemic, but there hangs another tale. I have mixed feelings about getting senior discounts, but it's nice to be a senior again. All my best wishes." This species of lizard is taking over Houston at the ground level. They leap."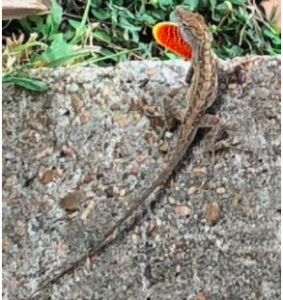 Jay Borden says "I always loved dystopian fiction. Never really meant to live in it. We're all safe, though. Granddaughter number three was born in May, she and numbers one and two are a joy to me in a dark era. I continue to work on my welding and metalworking skills as a custom steel bicycle frame builder (aka Roulez Cycles). Check it out on Instagram. Becoming a machinist teaches me patience, mindfulness, precision, and tolerance for my own errors. My machine shop is my refuge." 
Our 40th reunion, scheduled for this May, has unfortunately been postponed again. Keep an eye out for news this coming spring. Fundraising for our reunion gift is happening all year long. For all gifts greater than $180, you will be thanked with a commemorative gaiter (while supplies last), and we hope to schedule some virtual events throughout the year. If you want more information or want to get involved, contact Mike Schramm at mschramm@wesleyan.edu. 
Jacquie Shanberge McKenna | jmckenna@indra.com