CLASS OF 1973 | 2020 | ISSUE 2
How life has changed for so many of us. As of this writing in early May, I have spent every work day for the past two months at my CBS station, WFOR-TV, covering so many aspects of the coronavirus from the economy, unemployment, medical care, massive food distributions, survivors, and those who have sadly lost their lives in this crisis. One survivor in New York City is our esteemed classmate, Dr. Jonathan Raskin, whose story is coming up.
Amid the coronavirus pandemic, we have some sad news to report that 69-year-old Robert Joseph Campbell of Cromwell, Conn., passed away on May 18 from complications from COVID-19 after a short illness. Robert was active in politics and was known for his care and work for those with special needs.
From California, Phil Levine writes that he and his wife are doing fine. He says, "We FaceTime with our children and grandson and see plays on Zoom. It's not the same as being in the same room, but it helps." He says he sees his students at SBCC School of Extended Learning online two nights a week. They are finishing up a virtual poetry reading for retirement homes and a homeless shelter and have a virtual A Midsummer Night's Dream slated for late May.
"I think we are all grateful for this social interaction, especially since many of the students are older and living alone," says Phil. "So, life goes on; but it sure will be nice to gather in person again…safely, of course. I am grateful that we are all well here, and I am especially happy that my Wesleyan pal, Jon Raskin, won his bout with COVID-19. I am indebted to him for making me realize early on to take this illness seriously." Sadly, Phil's mother died March 11, and his family would have all assembled in New York City for the funeral. As it turned out, they did a videoconference for the ceremony.
Jonathan Raskin writes that "the reports of my death are greatly exaggerated as Mark Twain recounted, but in my case it was a bit too close." He says he struggled through the COVID-19 pneumonia and, "I am happy to now have antibodies!" For more about his battle and recovery, he says check out YouTube and enter "New York pulmonologist" and "get the gory details." Jonathan thanks you—"my Wes buddies"—for keeping him in your thoughts during the time he was ill. "Please stay safe and be vigilant," he says. "We are now senior citizens and part of the 'at-risk' community. We just think 70 is the new 50 and I am here to tell you that's fake news."
From Lake Placid, N.Y., John Huttlinger says he and his staff at Adirondack Audit company have been working in isolation "but at least we are working!" He says he has been participating in Kappa Nu Kappa alumni video chats, which he says "have been great." At last word, John was trying to find a way to reach Tim Mooney.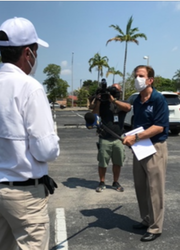 Hope you are all finding new creative things to do. My wife, Connie, has been creating cloth masks for those in need, and she and my middle daughter Dana have been finding one family in need per week to help with food and much-needed other contributions here in South Florida. My oldest daughter Jennifer—a nurse and assistant to a pastor at her Gloucester, Va., church—has helped pioneer a nationwide Sunday broadcast of her church service and my youngest daughter Holly—a wildlife biologist and artist in Highlands Ranch near Denver—is teaching art courses through Zoom and has built up many projects through the internet.
Hope you are finding new or creative projects, perhaps something different every day, and being careful.
Peter D'Oench | Pgdo10@aol.com