CLASS OF 1986 | 2020 | ISSUE 1
Mike Sealander wrote me, saying, "Recently, I have decided to make another go at learning Japanese. I studied at Wesleyan, went to Japan, made progress, and then left it alone. I'm intent on getting my groove back. If there are fellow alumni who would like to chat in Japanese, I'm game."
Ben Schneider says, "I'm in my sixth year of training LGBTQ activists across North America for The Sisters of Perpetual Indulgence. May go to France in June for the SPI World Conclave. Still spending time with Melinda Newman, Cobina Gillitt '87, Lisa Rosenblatt '85, Julia Barclay-Morton, Dan Kolbert '85, and others. Was thrilled to dine with Brad O'Neill in the fall. Miss Conor McTeague powerfully. Still occasionally guest lecturing at universities on gender activism and performance." You can find Ben's video storytelling on YouTube under Sister Unity.
Ellen Santistevan has joined the hybrid vehicle-owner's club. "I feel somewhat pretentious, but I do hope that collective individual action will do a little bit to help things along. I don't know for sure that it will, though, without reining in the big polluters. I also worry terribly about the poisonous battery materials and the fact that it feels like the entire vehicle is made of plastic. I hope it's recycled plastic, at least! What's making me happy these days are still being outdoors, being with my family, and playing with my pets. Sometimes I feel tired of work and taking care of people, but having worked for myself for so many years, I doubt whether I could fit into the 9-5 anymore. My two sons also have a really hard time fitting into that rut, and I kind of worry about their futures. My daughters seem to have found their ways to get through the world, at least. I feel like I have no real advice that I can give anymore, as the economy is so different now than it was for us. School is not the guarantee of a living wage. Life seems to hinge on luck and heritage more than anything else."
Speaking of jobs, Cathy Cotins has changed jobs: "After more than a decade helping lead executive education and enterprise learning at Harvard Business School, I left last spring to join the executive team of a boutique leadership development firm. I love the work we do to transform organizations by helping their top leaders engage in deep personal transformation bringing empathy, compassion, and vulnerability forward and integrating head and heart intelligence. I'm grateful and so happy I found a community of teachers, leaders, and an expanding number of top global companies who value this work. I haven't been this happy at work for a very long time. Our CEO and founder is a Wes graduate ('85), which was a fun topic of discussion the first time we met before either of us was considering I might join to help lead their growth. Go, Wes!"
And Rick Koffman is partner at Cohen Milstein in DC and co-chair of their antitrust practice group, where he litigates antitrust cases on behalf of the victims of corporations engaged in price-fixing, market monopolization, and other unlawful conduct. (According to the firm's website, he was co-lead counsel for the plaintiffs in the largest price-fixing verdict in U.S. history and the largest jury verdict of 2013.) He says, "More interestingly, my son Dustin, who is 21, just published his first book of poetry, Eating Broccoli on the Moon (available at unrestrictedinterest.com).
Andy Layden celebrated 21 years of teaching astronomy at Bowling Green State University (in Ohio, near Toledo) by becoming chair of his Physics & Astronomy Department. In 10 years, he hopes to be retired, living in Puerto Rico (winter) and Canada (summer) and sharing his love of the night sky with anyone who will listen.
Dana Walcott and Stephen Porter '87 are organizing a fundraiser to digitize audio cassettes of Wesleyan student music so people can listen to it online. The audio tapes are in a special collections at the Olin Library right now. If you're interested in learning more or donating to the cause, go to facebook.com/groups/wesleyanclassof86.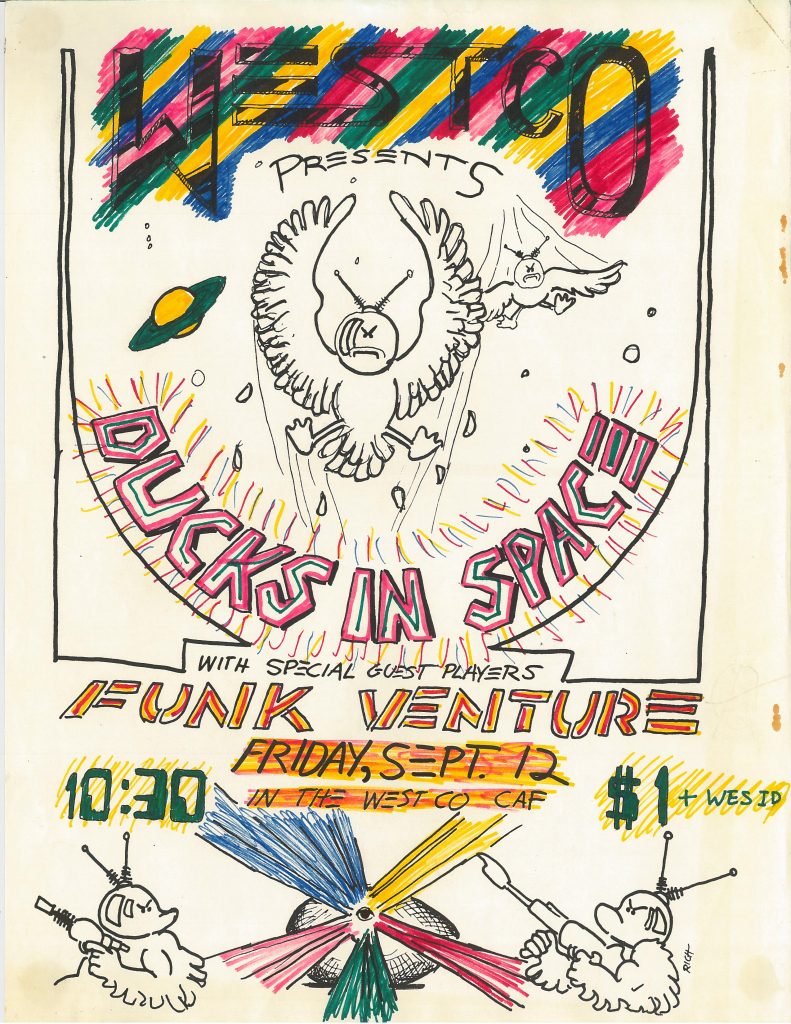 Lastly, George Justice has started a higher education consulting firm with Carolyn Dever of Dartmouth College. Dever Justice, LLC leads workshops for faculty development focused on faculty leadership in research, teaching, and service. George and Carolyn write a monthly column for Inside Higher Ed and are working on a book together, Beyond the Dark Side.
Eric Howard | ehoward86@wesleyan.edu