CLASS OF 1966 | 2020 | ISSUE 1
"Lives well-led" is the theme. We begin with this delightful update from Phil Luks: "Wesleyan memories: sipping sherry with Tom Tashiro, the most precise and thoughtful person I'll ever meet. Sitting on an Amherst hillside with a first date—now my wife of 51 years, Charlene Balcom, Mount Holyoke '67—watching a young president, with a month to live, dedicate the Robert Frost Library. Throwing buckets in the best Clark Hall water fight ever. Charlene and Hank Lufler dancing on Hank's couch to "You Can't Hurry Love." Falling off my chair laughing at one of Rusty Hardin's ['64] stories.
"After law school, I joined a San Francisco law firm, and focused on developing and financing large cogeneration and alternative energy electric power projects. I then worked for one of our major engineering clients, as a senior executive responsible for the world-wide development of large non-government infrastructure projects. At the end of my career, I took a fling with a Silicon Valley startup that tried to create a specialized search engine, but got swamped by another startup with a funny name, Google. Along the way, Charlene and I had a daughter (Tracy, Reed College '94) and two grandchildren.
"We retired to Healdsburg, Calif., one of the best communities in America (read David Brooks if you want to see how a city like ours, a society and community like ours, can work and thrive.) If you live here, you connect with the city's life, and I've been active in the local community foundation and health clinic, and have been a planning commissioner for years. Charlene out participates me—the library would fall down without her. We keep active, we're in good health and we try our best to look forward to the future."
Phil Shaver, distinguished professor of psychology emeritus at University of California, Davis, and his wife, Dr. Gail Goodman, were invited to speak at Altai State University in Russia. Phil shares this illustrious story: "Late one evening we went down for dinner in our hotel dining room, and besides ourselves there were only two guys sitting at a table with large, empty beer glasses, taking vodka shots followed by swigs of red berry juice. They invited me over for a brief conversation and three test shots, and we conversed as much as their modest English and my nonexistent Russian allowed. At one point in the 'conversation,' I happened to mention Putin. One of the guys excitedly said, 'I LOVE Putin!' He stood up, pulled up his sweater, and revealed a t-shirt with a picture on it of Putin wearing a jaunty sailor's cap. I said, 'That is GREAT! Where did you get it? I'd like to buy one.' He said, 'You like it? You can have it!' And he quickly removed both his sweater and the Putin shirt, and – standing bare-chested – handed me the shirt. It was the first time in my life I ever realized what 'He'd give me the shirt off his back' means. My wife said, 'Phil, are we ever going to order dinner?'" Though retired, "taking golf lessons and art classes," Phil is "drawn back into work…I agreed to teach a 200-student course…I had thought I would never do such a thing again. I expected to be dead or demented by now, but since I seem to be in pretty good shape, I may as well make small contributions to the younger generations of students and coauthors." I say, good for Phil.
In retirement, Paul Gilbert continues to contribute and to inspire: "I've discovered his favorite sport again while helping those who deserve it. Veterans on Deck is a volunteer organization run by veterans who take recently released and retired veterans who want to benefit from a program designed to provide a social atmosphere combined with a little adventure. VOD activities help to relieve socialization issues during active duty or after serving on active duty…We have a full schedule of sailing opportunities for vets Tuesday through Saturday. We have two boats, both skippered by retired older veterans qualified to be skippers. We go out (weather dependent) for two-hour trips utilizing our participants to work the boat. It's a way of getting someone literally off the couch, put them in touch with their peers and generally have a good time. We're supported by local donations to our nonprofit and are able to accept donations of sailboats for our use. Right now, we have a 27-foot and 31-foot sailboat. I've found new friendships as a volunteer and hopefully helped our participants find a way for a better quality of life." Again, life being well-led.
Dave McNally and his wife, Michelle, recently "joined forces with John Neff for a fabulous weekend at Sugar Hollow Retreat, a beautiful rustic resort in east Tennessee owned by an old friend. The festivities included a day at the National Storytelling Festival in historic Jonesborough, Tenn., an annual event that draws thousands and features innumerable storytellers from around the world (our favorite was Bil Lepp, five-time winner of the WV Liars Contest). We stayed at John's afterward in Winston-Salem and had the pleasure of him visiting us in Alexandria in December.
"I also spoke at length with classmate Rob Chickering, who still plays tennis several times a week and enjoys a relaxed retirement with his wife Rhoda in East Montpelier, Vt. And I met . . . in Alexandria, VA, with Pam Vasiliou, who just retired from a long career at Wesleyan. Any of you who ever attended one of our class Reunions appreciates how incredibly helpful Pam has always been. She felt a special bond to our class, and we to her. Thank you, Pam, and may you enjoy a long and wonderful retirement.
"Michelle and I spend as much time as possible at our log house in the woods in the West Virginia. We're nearly three miles from the nearest paved road, just the way we like it. The photo shows a rainbow ending right on our house, a meaningful event for an Irishman like yours truly."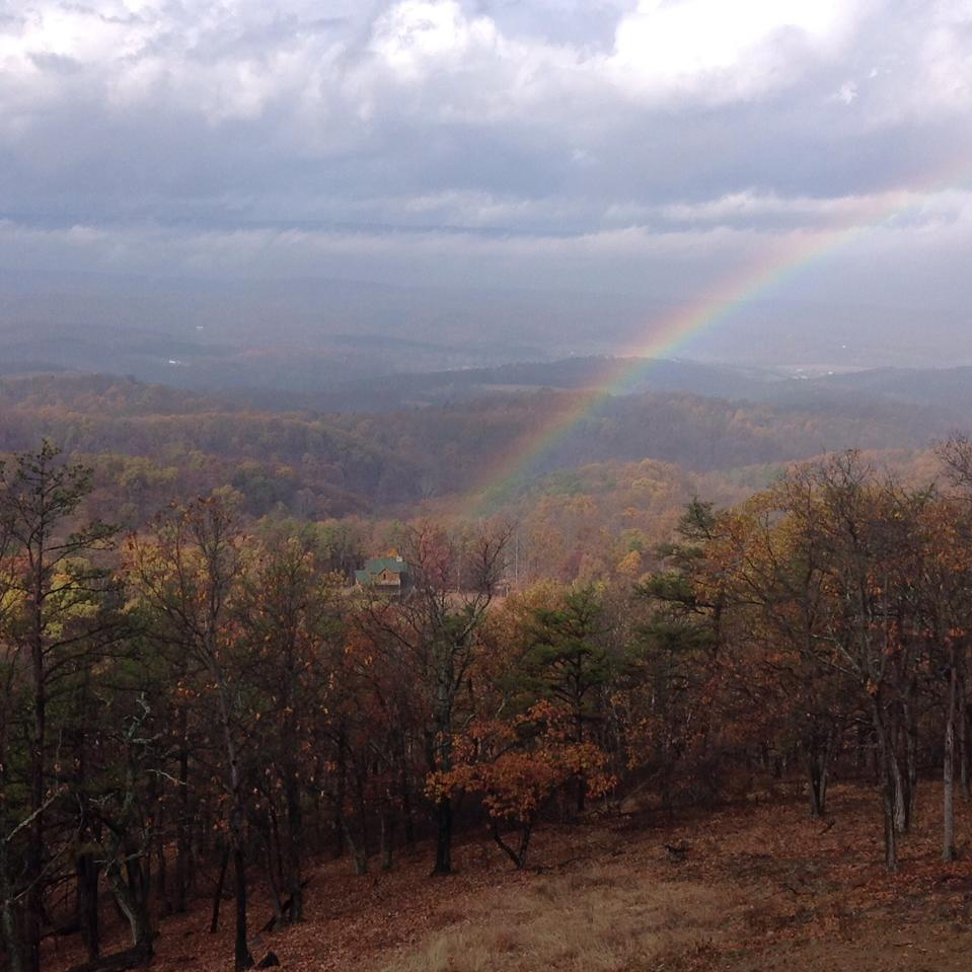 Dave also sends news about our national champion swimmer, Sandy Van Kennen, who "recently had both knees replaced. Sandy is confident that both surgeries were highly successful, though he stresses that the key—apart, of course, from having a good surgeon—is doing all the prescribed physical therapy religiously, and having an adequate stash of the products that brought the Sackler family so much wealth (and infamy)."
Howard Brodsky's exemplary work and stellar career are once more being recognized, Howard being "named the 2019 recipient of the international Rochdale Pioneers Award…the 'Nobel Prize of Cooperative Business,' the Rochdale Award is given out every two years to an individual who has made the greatest impact across the world through the innovations of shared ownership, specifically through the cooperative business model that anchors value with members, employees, customers, and their communities." Howard "co-founded CCA Global Partners in 1984, bringing scale to entrepreneurial family businesses by creating an international enterprise of 15 unique cooperative businesses in multiple sectors of the economy from home furnishings, business services, sports retail stores, to childcare, nonprofits and more. Together, they serve 1 million small businesses in four countries and 20,000 childcare centers across America."
Congratulations to Howard and best wishes to all, with the reminder to mark your calendars for our 55th Reunion in May of 2021.
LARRY CARVER | carver1680@gmail.com
P.O. Box 103, Rico, Colorado, 81332 512/478-8968