CLASS OF 2002 | 2019 | ISSUE 2
Hello, Class of 2002! Not many updates came through this month so please feel free to e-mail me anytime of the year, not just when we solicit them through the class e-mail list. I would love to hear from more of you to include in the next issue! Onto the updates:
Caitlin Hardy lives in the New Jersey suburbs of Philadelphia with her husband, Jeff Raynor, and daughter Savannah. She finished her radiology fellowship in women's imaging in June and joined a private practice in July.
Eric Donelan is leaving the U.S. Embassy in Budapest, Hungary, after three years, with the newest addition to his family—his daughter Freya. Eric and his wife, Danielle, along with their children Grant, Wyatt, and Freya—will be heading back to the U.S. for language training before traveling to La Paz, Bolivia, next June for a two-year assignment at an altitude over 11,000 feet.
Jesse Lava was named to the national 40 Under 40 in Public Health list, sponsored by the de Beaumont Foundation.
Julio and Mariela Rosario Pabón celebrated the first birthday of their second child Francesca Solar. Mariela is the editor-in-chief of HipLatina.com, the largest site for Latina Millennials in the U.S. Julio is the supervising creative producer for global cultures for Spotify.
Will Gardner and son Miles made a pit stop at the Usdan Center on their way to see Nat Katin-Borland, Amy Strekas '03, Evan Katin-Borland '06, and Pete Mongillo.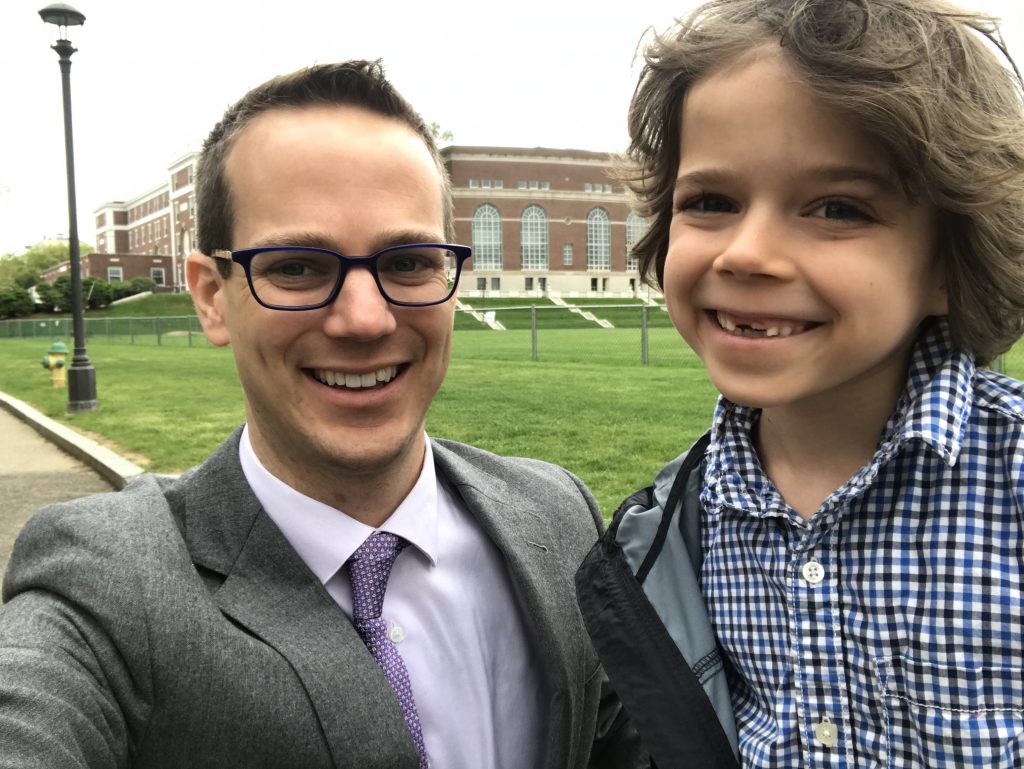 Domenick Acquista is a physician with International and Executive Medicine at Lenox Hill Hospital Northwell Health. He opened his own medical spa,  Behodi Aesthetics and Wellness, in Long Island City.
Kasia Newman Deuel made a quick visit to campus and enjoyed seeing the major landmarks of her youth with her family, including her son Emmett, 5, who enjoyed riding his scooter around "Mommy's college." She says that the "campus is looking great." She is happily doing public policy work on marine conservation with The Pew Charitable Trusts, coming up on 10 years with the organization. She works from home in Beverly, Mass. She enjoys catching up with classmates when in D.C. or NYC and welcomes a chance to connect when folks come through Boston.
I've personally been enjoying the Netflix documentary series Remastered, created and produced by Michael Zimbalist. Each episode of the series is directed by a different filmmaker and "investigates high profile events affecting some of the most legendary names in music, presenting groundbreaking discoveries and insight." My favorite episodes include one about the murder of Sam Cooke and another about the short, mysterious life of blues music pioneer Robert Johnson.
That's it. Please send more updates my way. Thank you!
Justin Lacob | justinlacob@gmail.com