CLASS OF 1980 | 2019 | ISSUE 2
Alumni magazines, similar to Facebook and Instagram, are filled with our best news. But our class, as with all classes, at all schools, are living our lives with both challenges and successes. Life isn't so perfect—some of our classmates are batting serious illnesses, others are rebuilding their lives after failed businesses or divorces, and still others are surviving natural disasters or struggling to keep their children on track. And some haven't made it—we have sadly lost another class member, Retired Federal Judge Patricia (Patti) Minaldi who passed away in December. Patti earned her law degree from Tulane University before serving as an assistant district attorney in New Orleans and in Calcasieu. She served as a judge in the 14th Judicial District Court from 1996 to 2003 before being appointed by President George W. Bush in 2003 as a federal judge in the Western District of Louisiana, where she served until July 2017. So I salute all of us as we overcome the challenging times and losses and also hail our exciting successes and important milestones.
Here's a toast to the classmates who reported in on their new careers (how inspiring!):
Cindy Ryan graduated last May (age 60!) with an MA in mental health counseling – expressive arts therapy from Lesley University. Cindy is now working at a residence for clients with brain injuries. Cindy said that while many of our peers are retiring, she's finding this new late-life part-time career to be very meaningful. She has enjoyed counseling many wonderful clients and interning at some amazing organizations including a farm and a cancer-care center. She noted that creative arts, which includes movement, drama, music, and play therapy, prove to be a beautiful means to restore vitality and enhance emotional well-being. Cindy has been finding a new relationship with the power of creativity, in addition to painting. She said that her children, Juliet and Jonah, have been launched for some time, living in California and Canada respectively; both great places to visit.
Freddi Wald has spent her career in marketing, education, and the arts—working in creative businesses and start up creative ventures at Time Warner, Amex, and Pace University as chief marketing officer. Since Wesleyan, she has been committed to the arts (always her passion)—working as a volunteer and on boards in theatre, arts in education, and arts advocacy and policy. After taking a year off to consult, most recently Freddi started her new position (as she noted, "yes, you CAN get a new paying job at age 60!") as head of membership at the Metropolitan Museum of Art. Freddi is living in NYC with her husband of 25 years, Roger Sherman (Yale '78) and daughter Nora, a high school rising senior. Freddi caught up with Jacquie and a few others at the November Wes weekend for Sons and Daughters—a great introduction to the admissions process and to Wesleyan for our daughters. Freddi hosted an evening of Wes Women in NYC with help from the development office to gather alumni classes of women 1975-1985 for conversation, wine, and cheese. Among old and new friends were Janet Grillo, Elise Wagner '78, Trustee Anne Goldrach '79, Charlotte Van Doren '84. Freddi is in touch with Wes alumni in NYC but would love to hear from anyone from class of 1980, as we head into our Reunion year!
Mark Zitter and his wife, Jessica, recently participated in a life-planning workshop for couples to figure out what they want to do when they grow up. Meantime, Mark has big news! Feb. 1 was both the 30-year anniversary of the founding of his company, Zitter Health Insights (formerly The Zitter Group), and the day he sold it. It's the second company Mark has sold to a private equity firm and he states that there will be no more startups for him. Mark took his Wes roommate, Scott Hecker, and Scott's wife, Gail, out to dinner in La Jolla in January to celebrate Scott's 60th birthday. Scott is still in charge of chemistry at biotech startups, inventing the next antibiotic to save the world. Mark is in frequent touch with Julie Burstein, who is working on a podcast project with Mark's wife.
Mark has plenty to do, he just doesn't get paid for it. He still owns a part of his former company and will serve on the board, though he won't have any operating responsibilities. His nonprofit, Zetema Project, a group of U.S. healthcare leaders from both parties and all major stakeholder groups, is very active and will consume plenty of his time. Mark is the facilitator for an exciting initiative aiming to reform California's health care system, and he continues to produce health care programs at the Commonwealth Club. Mark is now unemployed for the first time since Stanford Business School, and says happily so.
Mark's daughter, Tessa Zitter '21, finished her junior year at Wes, way overcommitted and loving it. Tessa is planning to triple major, twirls fire, sings a capella, choreographs fights for plays and films, co-writes a TV series, does chemo-analysis on Wesleyan's mummy, serves as a tour guide, is on the Chabad board, and more. Son Sol is starting his senior year at Brown majoring in computer science and doing tons of swing dancing. His high school senior, Sasha, and their mini-poodle, Jinx, last summer were on the first U.S. team in dog agility to win a ribbon in international competition.
Our class has been significant contributors to the arts including:
Michael Bell, playing banjo and mandolin with his "class-grass" band Graminy, released this year in June their most recent album: Live at the Brink, which can also be found on Spotify. Mike is the Vilas Distinguished Achievement Professor in the Department of Community and the Environmental Sociology, Nelson Institute for Environmental Studies, Religious Studies, and the Agroecology Program at the University of Wisconsin-Madison. His most recent book, City of the Good: Nature, Religion, and the Ancient Search for What Is Right, was published in 2018 by Princeton Press.
Vic Tredwell, musician and radio maven, has come back to one of his Wesleyan interests, radio—he was a regular on WESU. These days, Vic is the operations manager at the Belfast Community Radio, WBFY, in Belfast, Maine.
Lisa Olsson still lives in Dobbs Ferry and teaches cello, currently at Hudson River School of Music, and Trinity School in NYC, and performs in the Yonkers Philharmonic Orchestra and the Hudson String Quartet. In addition to her music career, she began writing poetry about five years ago and has been published several times. This year, she was a winner in the Poetry in the Pavement contest in Sleepy Hollow, N.Y., where one of her poems is inscribed in the new poetry walk. She also has a poem in Lumina, the literary magazine published by Sarah Lawrence College. Lisa showed her art for the first time in April, at the Blue Door Art Center in Yonkers, in a show of art made from recycled, reused, repurposed materials. Lisa's daughter (19) just finished freshman year at Rice University, and her son (29) has started his own business in gems and minerals in Brooklyn.
Mike O'Brien played on May 24 for the Wesleyan Class of 1979 Reunion at Eclectic with a whole bunch of Wes alumni. The gig was organized by Jack Freudenheim '79, and featured the following alumni musicians: Charlie Berman '76,Ann Beutler Millerick '77, Banning Eyre '79, Jack Freudenheim '79, Wil Galison '81, Chuck Gregory '74, Tom Kovar '76, Robert Levin '81, Bill Levinson'79, Win Lockwood '78, Beth Masterman '79, Jim Melloan '77, Matthew Penn '80, Greg Shatan '81, Tom Valtin '79, and Dirck Westervelt '82. Mike sang 70s and 80s classics—pretty much the same type of stuff he sang on campus with The Bees, back in the day. Mike stayed with Kevin Markowski '79 in his lovely Middletown home. Mike and Dave Stern still get together every year to play Beatles songs at the annual benefit Mike organizes in Northampton, Mass., for a local music school; most recently they got together in March, when, among many other things, they played a tribute song for Mike's brother, Greg, who died last summer. Greg was not a Wesleyan student, but he was a member of Mike's college band and had a lot of friends on campus.
Alan Jacobs(managing director of Archer Entertainment Group) is working on a big film about the first men to reach the South Pole, which is moving at an appropriately glacial pace despite major assists from Vicki Cohen and Brooke Elkin '91. During a brief stay in Tel Aviv, Alan met up with classmate Jeff Green of High Street fame. Jeff visits a few times a year to work at an ER in Ashdod and plays music in the evenings at a club called Jessica, where Alan heard him. While Alan was in Tel Aviv, Alan's sons, Matan Green '15 and Ron Jacobs '16, were meeting in Los Angeles to plot their takeover of the music industry. The legacy continues.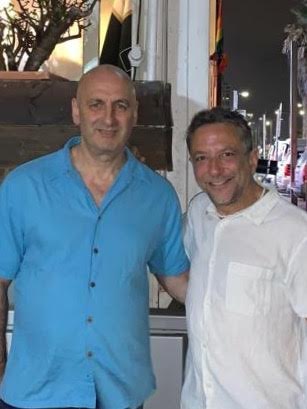 Alan said, "The four of us met for dinner recently, which was more trippy than any drug I took at Wes." Alan's four have all left the nest, and two of them are off the payroll. Alan added, "I don't know what all this talk is about turning 60. Don't you remember that elementary school student on campus? That was me. Okay, I celebrated my 60th birthday in December with close friends and family at a lovely Italian restaurant in downtown Manhattan, then we all walked to a Twyla Tharp performance at the Joyce Theater. It was heaven. Joining was my 85-year-old mother, who in the fall of 1975 barged into my high school physics class with an envelope from Wesleyan (opened, of course) and a big smile on her face. She dropped me off in Middletown a year later and said wistfully: 'You're on your own now and I won't be interfering any more. You can be any kind of doctor you want.' Hey, there's still time."
Irene Chu is doing well—her graphic design business has been rewarding for the past 30 years or so, but is wondering if and what a next step might be. Between that and having both her kids in high school, Irene felt like she could do more traveling on her own this past year. High points were visiting Barcelona, Marrakech, seeing family in San Francisco AND reconnecting with Mark Zitter(after 10-15 years of doing nothing more than exchanging holiday cards at best). When she heard from me in June, she said that same week; she was starting a family road trip south to look at colleges. Her daughter is a rising senior. And yes, they'll be stopping by Wesleyan! Irene also has done a few more grown-up things locally. She said that kind of by kismet, she has gone with Sarah Liepert '87 and Ilana Newell '94 to a few Mistral chamber music concerts, with Julie Scolnik '78 as the artistic director! Talk about small world. She said it was SO great to catch up with Mark Zitter,compare notes, and reminisce about things like bowling with coconuts in Ft. Lauderdale over spring break. She said she can't always remember what she did yesterday, but it's amazing some of the things they could remember from 39 years ago.
Keith Sklar is currently showing his art in Suffering From Realness, a major group exhibition, and as he noted, curated by the extraordinary Denise Markonish at Mass MoCA (Massachusetts Museum of Contemporary Art). After years in San Francisco, Los Angeles, and New York, Keith has been living in Chicago since 2012. He said he had the miraculous fortune to meet his wife, Katie, in Chicago and they're the proud parents of Nora, their 4-year-old daughter. Daily, Keith is happily shocked and wildly grateful that he is a fairly new parent at this point in life. Keith's Mass MoCA show opened to the public on April 13 (he said the opening came and went fantastically) and will be on view through February 2020.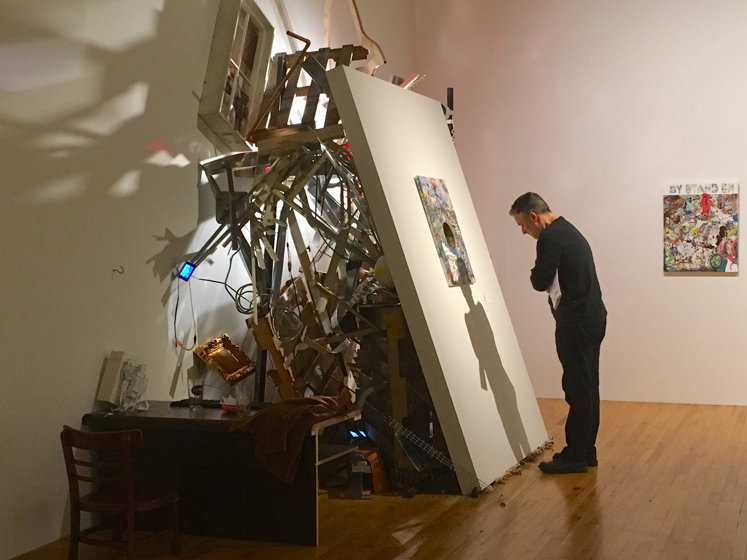 Keith continues to work as an artist and educator. After decades of an independent artist practice supplemented by grad and undergrad adjunct work, Keith teaches art at a private school. He added that in 2014, he was awarded a Robert Rauschenberg Foundation Residency Fellowship. Fellows don't apply, they're selected, and Keith was lucky enough to live and work with several other artists, writers and musicians for five weeks in the ecological paradise of the late artist's studio complex in Captiva, Florida. Keith finished by saying it's always a pleasure reading about the paths people have taken since our Wesleyan experience so many years ago.
Our class is pretty active in the international arena as well:
David Claman, along with his wife, Sunita, is coming to the end of another long stay in India. He has been on sabbatical from Lehman College-CUNY this year where he is an associate professor of music. David received a Fulbright-Nehru grant to go to Delhi and has been teaching at Delhi University's Faculty of Fine Arts and Music since September. David is composing and collaborating with some excellent young Indian classical musicians and has also been studying the sarod, an amazing stringed instrument used mainly in Hindustani music that he's wanted to learn to play for 25 years. He says it's been great and the time has passed too quickly, but they are also looking forward to being back in New York City.
Andrew McKenna reported across the table that he would be on another expedition in August sponsored by National Geographic, continuing the search for Amelia Earhart on the South Pacific island of Nikumaroro, again with forensic dogs. Look for a potential National Geographic TV release this fall.
In June, Wendy Davis caught up with Peter Eisenhardt at a local pub the same week he was jetting off to Sydney, Australia, where, after 20 years of residence, she had lots of local knowledge to share. Wendy said as a late bloomer, she is currently waiting the result of several "mentorship" grants for disabled applicants (noting, one has to play to ones' strengths). With a professional mentors' sage advice, she hopes to improve and publish the manuscript of her recovery from a 2007 massive stroke and terminal cancer diagnosis. Wendy and her husband John relocated to Greenwich, London, from Sydney three years ago. They are returning to Australia in June for a couple months. They are back in the UK in September for their daughters' graduation from University College London. Then they'll travel across Europe until Christmas, which they will celebrate in America for the first time in decades. The last time Peter and Wendy met was in November; they had the last turkey burgers left after Thanksgiving celebrations—for a little taste of "home."
James Lynch, working with the UN Refugee Agency, was out of town when I sent out the request for submissions, but in his automated response he includes a thought provoking quote: "Every year, refugees walk over two billion km to safety. Please join our solidarity movement to honour their resilience: stepwithrefugees.org."
Scott Phillips, back in New York after working in London, says it's a short bike ride to work for him, as he still works for Société Générale (23 years and going strong). Scott says that he and his wife Crystal are doing well—their fourth and youngest child is graduating University of Denver in June so they headed there with the whole family to celebrate the "last" graduation. Crystal and Scott are enjoying living on the upper West Side of NYC, which is close to two giant parks and all the entertainment and food a body can need. They don't have any grandchildren but they see their grand children plenty and love that.
And a few classmates wrote in about their 30-plus year anniversaries—Congratulations!:
Gary Gilyard and his wife just celebrated their 35th anniversary in Paris. They have a grandson and another grandchild due in late October. Gary is planning on attending our 40th Reunion and says, hopefully many others will as well.
Will Rowe and his wife Teresa Kosciuk-Rowe '81 are approaching their 29th year living in Annandale, Va. June marks 35 years since their wedding (they had 18 Wesleyan classmates with them that day in Meriden, Conn.). Will plans to be at our 40th Reunion.
This year Jennifer Boylan and her wife, Deirdre Finney Boylan '82, celebrate their 31st wedding anniversary—12 as husband and wife, 19 as wife and wife. Their children are now in grad school and thriving. In 2019, after almost 30 years as a professional writer, Jennifer finally got a piece published in the New Yorker—"What 'Peanuts' Taught Me About Queer Identity," (The comic strip's lessons about unrequited love and self-acceptance.) Jennifer added that it was very cool, although she preferred her original title, "You're Weird, Sir."
Jenniferis in her fifth year as Anna Quindlen Writer in Residence and Professor of English at Barnard College of Columbia University. This has Jennifer in New York from January to May each year, after which she returns to her home in Belgrade Lakes, Maine, where she continues to live with Deirdre. Her writing life continues too: she writes a column for the op/ed page of the New York Timesevery other Wednesday. Last year Jennifer published a novel, her first for adults since 1999, Long Black Veil. And next year, 2020 will see a new memoir, which is a kind of memoir of masculinity, centered around the seven dogs she owned during seven phases of her life pre-transition. The title is: GOOD BOY: A Life in Seven Dogs. Jennifer is already thinking about our 2020 Reunion and hope everyone is doing okay. She is sending love to all her classmates in Wesleyan 1980.
Okay, amazing graduating class of 1980—Freddi Wald, Jacquie McKenna, and Kim Selby have committed to work on our 40th Reunion and they welcome fellow '80 alums to join in the planning. Please let Jacquie know if you're interested in joining our reunion committee or the Class of 1980 contact at Wesleyan, Kate Lynch '82. Kate's contact info: klynch@wesleyan.edu 860/685-5992.Kim suggested that all those who already are planning to come, think about the roommates, hallmates and others you may like to see in May 2020, contact those folks and start building a collection of groups who want to reunite!
Jacquie Shanberge McKenna | jmckenna@indra.com