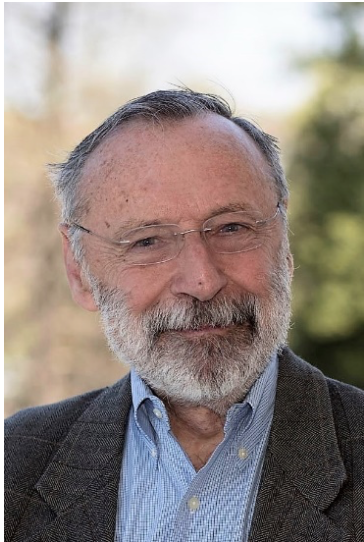 Joseph C. Miller '61, 79, succumbed to an aggressive cancer on March 12, 2019. He died at the Center for Acute Hospice Care, surrounded by his wife, Mary Catherine Wimer, and two of his children: Julia Miller and Calder Miller.  He is also survived by his son John Miller, and was preceded in death by his daughter, Laura Miller.  Among his other surviving family are his brother and sister in law, James and Marlene Miller and their family, and his ex-wife, Janet Miller, as well as a large extended Calder family.
Joe was an internationally esteemed, Professor emeritusat the University of Virginia, where he held the T. Cary Johnson Jr. Chair in the History Department.  During the forty six years that he worked at the University, he turned down other positions, including an invitation to join the History faculty at Harvard.  He also always reminded people that he had earned a prior MBA, which influenced his approach to historical thinking, as did additional study in Anthropology.
Known as a giant in the field of early African history and the world history of slavery, his work focused on the slave trade and enslavement, especially across the South Atlantic.  Among the many honors he achieved during his academic career, he was most proud of winning the Herskovits Prize given by the African Studies Association for his book, Way of Death, and of receiving a Guggenheim Memorial Foundation Fellowship which resulted in the publication of The Problem of Slavery as History.
The highlight of his career occurred this past fall, after retirement, with two extremely special events.  First, he was inducted into the 2018 class of the American Academy of Arts and Sciences, an exceptionally notable achievement recognizing his groundbreaking work over a long career.  Second a colloquium in his honor, "Africa in Global History," was organized by his former students, colleagues, and friends at the Harvard Center for African Studies.  During that day it was abundantly clear how significant Joe's influence had been.
In addition to his scholarship, Joe also served in many administrative positions, including Dean of the College of Arts and Sciences at the University of Virginia and as President of both the African Studies Association and the American Historical Association.
However, these facts about Joe do not begin to convey the depth of love and admiration that people had for him.  So, some quotes from tributes pouring in from all over the world might better capture who Joe was in life.
"Your mentorship has been one of the great gifts in my life—which has been fundamentally reshaped by our relationship. My world is bigger, my imagination richer, and my thoughts more interesting because of you. Plus, it is quite literally because of you that I know how to write."
"Joe had an infectious love of teaching and a passion for delving into history's intellectual complexities. He taught me a working theory of history and modeled untiring intellectual curiosity and openness to the unconventional."
"I have never met a scholar so intelligent, humble, and generous when dealing with both senior scholars and graduate students."
"Joe was a rare academic who didn't care at all where you came from, what you looked like, didn't care for those normative signs of prestige and intellectual authority that so many in academia focus on. All he cared about were ideas and intellect, and truly the person and their potential as a scholar and a person."
"He was a dear, dear friend to me: a passionate and compassionate, generous, kind, thoughtful man; an avid adventurer, and someone I could always count on for a word of encouragement, a smile, and lively, smart conversation."
It seems fitting to close with a poem by Raymond Carver that Joe could embrace:
Late Fragment
And did you get what
you wanted from this life, even so?
I did.
And what did you want?
To call myself beloved, to feel myself
beloved on the earth.
A Celebration of Life will be held in early summer when a memorial scholarship fund will be announced.
We thank Joseph's friend Robert Palmeri '61 for this heartfelt tribute.