CLASS OF 2005 | 2019 | ISSUE 1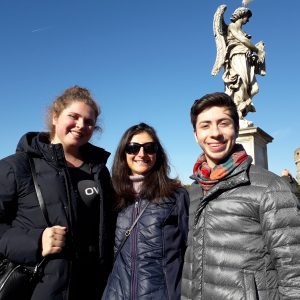 On a recent trip to Rome, Maria Nankova met the smart and lovely current students, Anik Bernstein '20 and Daniel Osofsky '20. They were accompanied by Daniel's mother, Mariam Osofsky. They participated in a walking tour in the center of the eternal city, enjoying unbelievable sunshine and blue skies for the month of January, and later ended with lunch at Piazza Navona. They discussed everything from history, film, and psychology to cultural identities and life abroad but forgot to talk about politics. Well, that was for the better! One can easily forget such an important topic for a moment under the spell of fresh Italian pasta and sun.
Maria said that it was great to hear from current Wes students that they are able to thrive, enjoy, and appreciate Wesleyan as much as she did in the early 2000s. Wesleyan seems to change but stay the same—managing to preserve its unique character while evolving.
Tom Facelle lives in Golden, Colo., with his wife, Jenn, and their two rambunctious boys, Ryan, 6, and Wesley, 2. He spends most of his time practicing urology and shredding the mountains of the front range on skis and mountain bike with David Delcourt.
Sivan Cotel presented at the SiX State Legislator Conference, demonstrating how to utilize small-business owners to advocate for progressive policy and counter the conservative voices of big businesses and chambers of commerce. He is chairman of the board of Porter Medical Center.
Jeremy May moved back to the Bay Area, settling with his wife, Anna, and two boys, Magnus, 3, and Solomon, 3 months, in Oakland, Calif. Jeremy is practicing as an oral and maxillofacial surgeon in the area. He will began teaching residents part-time at Highland Hospital and performing cosmetic facial surgery and transgender facial surgery in the coming months. In his spare time, you can find him enjoying backside slappies and poorly executed flat ground skate tricks at the Rockridge BART station. He reconnected with David Wilson, Hannah Barr-DiChiara, and Chris Lake.
Eric Herman is celebrating the 15-year anniversary of Modiba Productions LLC, the music production and management company he cofounded at Wesleyan in 2004 with Jesse Brenner, Dave Ahl, and Adam Tuck. The album Deran that he produced with the guitarist Bombino has been nominated for a Grammy, the first-ever Grammy nomination for an artist from Niger.
Eliza Vitri Handayani initiated and directed a huge, collaborative art event called House of the Unsilenced. More than 20 artists, writers, and performers (including Molly Crabapple) worked with a diverse group of sexual abuse survivors to create artworks, installations, writings, performances, songs, and discussions that speak up against rape culture. Follow the art project on Instagram: @unsilenced_. Eliza was selected into the Australia Arts Council's Arts Leaders program.
Marcella Winearls | marcellawinearls@gmail.com