Dr. Lester J. Schnell Jr. '44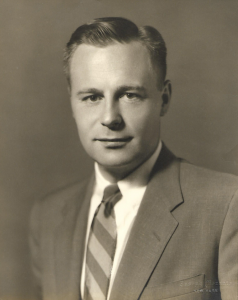 It is with great sadness we announce the passing of Dr. Lester J. Schnell Jr. '44. on November 1, 2018. He was born on Aug. 15, 1922 in New York City. Dr. Schnell was a Garden City resident since 1956. He died peacefully at home surrounded by his family.
Dr. Schnell grew up in Mt. Vernon, N.Y., and Candlewood Isle, Conn. He was an accomplished sailor and athlete. He was president of his senior class at A.B. Davis High School, Mt. Vernon, N.Y. He received his BA degree from Wesleyan University and was a member of the Alpha Delta Phi Fraternity. His subject concentration was chemistry and Latin.  He graduated from Cornell Medical University in 1947.  He completed his residency at The Brooklyn Hospital in 1947-1951.
During the Korean War he served honorably as a Captain in the U.S. Navy and the U.S. Air Force. During this time, he and his wife, Catherine, were recruited by the Central Intelligence Agency to serve overseas as physicians on the island of Saipan.
In 1956, he moved to Garden City and practiced obstetrics/gynecology at Nassau Hospital, now Winthrop Hospital, in Mineola, N.Y. He was a member of the American Board of Obstetrics and Gynecology. As a Garden City resident Dr. Schnell was actively involved in Garden City baseball, the Garden City High School Men's Association, the Garden City Retired Men's Club, and the Cherry Valley Club.  He was an avid supporter of Garden City High School sports and could be seen at almost every home and away baseball, basketball and football game. He enjoyed bridge, gardening, golf, tennis, reading, swimming at the beach, classic cars and boats, and attending the theatre. He was a long time Yankees and Jets fan.
He was the beloved husband of the late Catherine Lund Schnell and the late Marge Rix Schnell.
He was the father of Lisa (Schnell) Murphy, Richard Schnell and Nan (Schnell) Kiyonaga, as well as a grandfather of 14, and the great-grandfather of three.
Military burial will be at Calverton National Cemetery at a future date.
In lieu of flowers contributions may be made to Winthrop Hospital Neonatal Intensive Care Unit. Winthrop Hospital Development Office, 200 Old Country Rd, Suite 570, Mineola, NY  11501.
We thank Dr. Schnell's daughter for this heartfelt obituary.