CLASS OF 1975 | 2018 | ISSUE 3
Sincere apologies to Richard Hume! The university editing process accidentally swapped wives and children, trading Lesley (planning travel to Scotland with Richard for her retirement/anniversary celebration) with Laura (Paul Bennett's wife and Scottish dancing partner). Oops!
Richard, professor at the University of Michigan, teaches, runs his lab, and directs the undergraduate neuroscience program. While his retirement isn't looming, Lesley retired in June. They celebrated their 43rd anniversary with Brooklyn-dwelling daughter Rebecca '01, followed by the Scotland trip in July. Meanwhile, Paul Bennett enjoys retirement and volunteer work. Laura and Paul are the Scottish Country Dancers who recently traveled to the "home country." Their two sons in Brooklyn and Detroit were mistakenly added to Richard's family in the last class notes. Paul would be delighted if at least one son would move back to the Bay Area. Richard would be delighted if we could keep his news straight.
Apologies for referring to Dan Gold as "Don" in the last notes, but Jane Fonda, Lily Tomlin, Martin Sheen, and Sam Waterston, stars of Netflix's Grace and Frankie know his name. "What a blast to work with such great pros and shoot at Paramount Studios in Hollywood so I can sleep in my own bed every night," he says.
I caught up with Martha Meade '76 in L.A. She is thriving and related the tale of discovering her unknown talent for and love of visual arts. She and Steve Miller celebrated their son's Wes graduation this spring, followed by a cross-country drive home.
Karin Johnson, looking forward to retirement and hopefully traveling from her home in Japan for Reunion says, "All of you remain in my memory, forever young (!) and dear to my heart."
Amy Bloom reports, "Another novel brought into the world, another amazing grandbaby (Zora Pearl!), and a happily retired husband." They are working hard in small ways for political change.
Jay Geller is associate professor of modern Jewish culture at Vanderbilt University's Divinity School. Fordham University Press published his monograph, intriguingly called, Bestiarium Judaicum: Unnatural Histories of the Jews.
"L'chaim!" Jodie and Jeff Morgan have expanded their Covenant winery in Berkeley to Israel's Galilee region, where their daughter Zoe works with them. Covenant wines are sold and appreciated worldwide.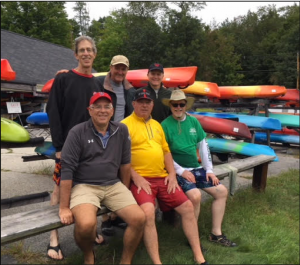 J.D. Moore enjoyed a New Hampshire kayaking reunion Paul Margolin arranged. Paul, J.D., Joe O'Rourke, Steve McCarthy, Vinnie Broderick, and Dave Rosenthal had great discussions on the water and swapped tales around Paul's firepit at night, followed by breakfast at a classic diner (featuring the Belichick omelets?).
Lisa Anderson has, after 30-plus years, sold to her junior partner the law firm she founded with a beloved colleague who died of cancer. Lisa is transitioning to her next "as yet untitled" chapter. Still working some for the law firm, she's also designing and facilitating workshops on navigating difficult conversations, looking at issues of race and immigration status, and coaching Unitarian Universalist churches searching for new ministers. Lisa raved about a Wesleyan Institute of Life Long Learning writing course she took. She visits kids on each coast—especially their new grandson, Rowan, near North Cascade National Park in Washington.
Bob and I had a summer Memphis-to-Massachusetts odyssey delivering our son's minimally muffled car. Stops included the beautiful home of Linda and Ed Van Voorhees in Nashville, who reported, "After an ancestral visit to Bob's 'cousin' (Jack Daniel) and dining on Loveless Café fried chicken and fixin's, the Californians drove eastward 'loud and proud.'" Ed and Linda work part-time and keep busy with tennis and grandchildren (#6 was born during our visit). We stopped in Dolly Parton's hometown but missed her and rolled through the Smokies to visit Alan Spiewak '74 and Patricia Gutzwiller, who hosted our stay, extended for brake repairs. Caught up with Brian Steinbach and Mary Reyner in D.C. between their volunteer gigs. Outside New York, we spent a low-key couple of days with Jean Barish '74 and her sons, Dean '17 and Drew Sterrett, working on a startup. Last stop was Boston, where I saw Rachel Adler Hayes. Post-retirement, she's busy "organizing everything in sight and tossing a lot of it, planning travel and catching up on TV shows." Her big project was renovating her parents' old home in the Catskills. Next spring Rachel and John plan to hit five of the seven states she hasn't seen.
The best part of our trip was catching up with Wes friends—I recommend it! Stay in touch and send news my way.
Cynthia M. Ulman | cmu.home@cmugroup.com
860 Marin Drive, Mill Valley, CA 94941-3955