CLASS OF 1970 | 2018 | ISSUE 3
Aloha. I'm sorry once again to have to begin the column announcing the death of another classmate. Arden Reed has died from an aggressive cancer. After Wesleyan, Arden earned a master's and a doctoral degree in comparative literature. He had been a professor at Pomona College for several years.
Bill Bullard wrote of Arden (known as Bud "in the day"): ". . . I keepcoming across former students of his at Pomona who remember him as a star, a fascinating teacher and extraordinarily dedicated to his students." Bill noted that his new book Slow Art was acclaimed and that he "had just begun a series a interviews and lectures about the book when he became sick. I know Dan Rosenheim visited him in Santa Fe when Arden was on sabbatical there and may have more stories. Arden and I wrote back and forth several times about the new book and reminisced about Phil Hallie's Philosophy of Art course, which we took together in the College of Letters and which Arden in part credited for his interest in the arts. Bud was in our group of COL students who studied in Paris in the spring of 1968 and lived the extraordinary mayhem of Mai '68."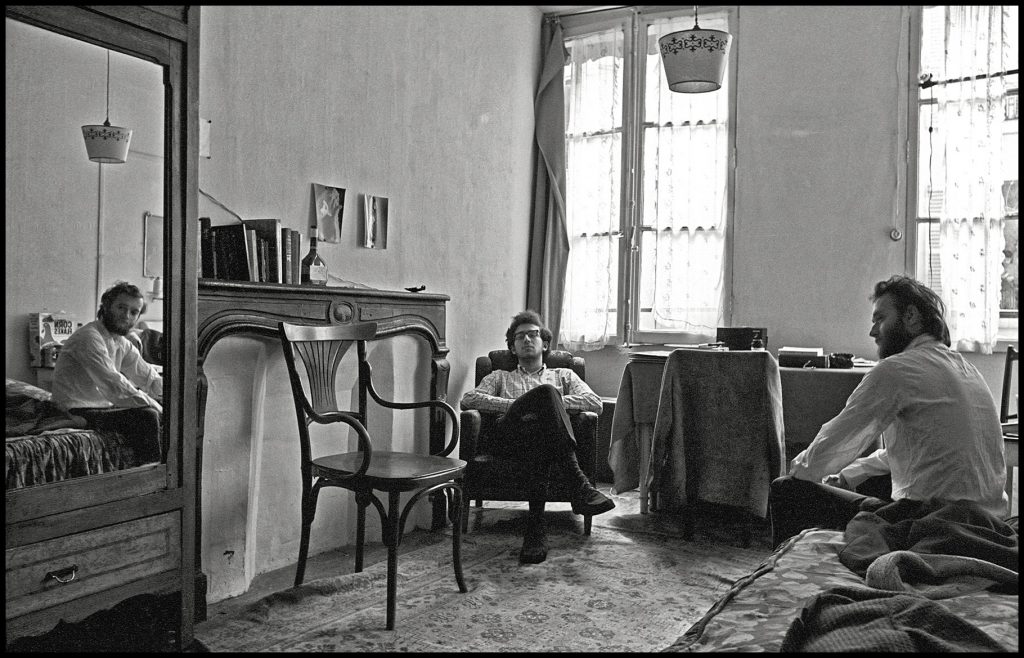 Bob Stone (aka Robert Mark Stone on Facebook) visited family and friends in New York recently. He indicates he is "still living the retirement good life in sunny (and hotter than ever) Southern California. Spending lots of quality time with our 5- and 9-year-old granddaughters and 3-year-old grandson. We consider ourselves extremely lucky that they all live nearby. And another granddaughter is due next February!
"Nancy and I continue to travel and gain an appreciation for other places and people. This spring we were in our happiest place again: photographic safari in Africa. This was our third such adventure and we can't seem to get enough of it. This time we went to two private game reserves adjacent to Kruger National Park in South Africa. It was spectacular! We followed that with a safari on horseback in Botswana. I should say that Nancy was on horseback and I was in a Land Rover, since I failed to meet the 'must be able to gallop away from danger' qualification. We also visited Johannesburg, with a fascinating tour of Soweto. Our understanding of the history and culture was enhanced by having listened to Trevor Noah's book Born a Crime during the long flights over from Los Angeles. I highly recommend the Audible version of the book, as Noah himself reads it and imitates the wonderful voices and accents.
"My other retirement avocation has been writing limericks, specifically ones poking fun at current POTUS. It's been a therapeutic outlet for me. My first volume, entitled Trumpericks, was published last November. The next one, called Trumpericks 2: Stable Genius, will hit the market by early October. The first had about 160 verses and the new one has over 300 more. They're arranged chronologically, supported by informative endnotes (the lawyer in me), and accompanied by cartoon illustrations from a wonderfully talented artist. Together these 'covfefe-table books' provide a satirical history of the first 20-months of this administration. Both books are available on Amazon. So much for the shameless self-promotion. I look forward to seeing my Wes classmates at our upcoming 50th (gulp) Reunion in 2020." [Note: if you're not seeing Bob's posts on Facebook, you're missing out. I recommend the books.]
Peter Ratner write that he and his wife retired at the beginning of the year. They now spend about two-thirds of their time in Greytown with seven chickens (three of which are Aracanas and lay blue eggs). The rest of their time is spent in Wellington with their daughter and granddaughter as well as with an aging cat who is 'remarkably spry for 17.' Peter says, "I don't miss work in the slightest and so far, I have been so busy I haven't had time to wonder what I am going to do with myself. I have just discovered podcasts and audiobooks which I can get from the library and am in training to do the Milford Sound at the end of February which is the last of the four Great Walks in New Zealand and the only one I haven't done." Peter says, "I am seriously considering turning up for the big 5-0."
Had a note from Ralph Moore on behalf of himself and Pete Stein. Ralph wrote, "We opened the Stein & Moore law firm in St. Paul, Minn., in 1977 and practiced together since (known locally as Pete and Ralph's Pretty Good Law Firm). This year, being tired of management stuff, we closed the firm and merged our practice across the Mississippi into a Minneapolis firm, and continue to work at the law." Ralph says that both he and Pete (and their wives) plan on attending the 50th Reunion in 2020.
And now for this column's challenge. Darwin Poritz says that [in last] "September my wife and I became-great grandparents—I am wondering if anyone in the class beat me to this feat. Being a great-grandfather is pretty special—until I realize it means I am married to a great-grandmother." Well, did anyone beat him? [aside from his wife] In other news, Darwin indicates he has an upcoming trip to Berlin, Germany to study German "at the GLS Sprachzentrum in the trendy district of Prenzlauer Berg and taking in the sights."
Ted Reed writes, "In September, we survived Hurricane Florence in Charlotte despite getting 11 inches of rain on our street. I should also mention that we also survived Hurricane Andrew in Miami in 1991 despite getting 170 mph winds on our street. Survival has given me confidence that I will make it to the 2020 Reunion, assuming that the informality of the '60s is maintained. I didn't think I would end up in the South, but I guess I was heavily influenced by our 1970 seminar with Joe Reed on post-Faulkner southern lit. The texts included The Heart Is a Lonely Hunter, which was written in Charlotte. "
John Sheffield wrote that he's been busy with three sailing deliveries "up and down the East Coast (Florida to New York) in spring and summer, car trips to visit friends in Georgia and South Carolina, transporting family members by car back and forth between Florida and New York, a military reunion (Florida), and The Big One, a trip about to happen as I write this: a month in New Zealand visiting a daughter." John is excited to help plan our 50th Reunion in 2020.
And from "the booming metropolis (1,250 people) of Petersham, Mass." We get word that Bart Wendell and wife Sandra (Whaley) are beginning their 50th year of friendship and 38th of marriage. "She splits her time between photography from her kayak, monarch butterfly rescue, and tilling the earth. I am winding down my leadership consulting practice and returning to behavioral medicine as 'the migraine-free coach' (both for my clients and now after 45 years of chronic migraines, myself)." Bart continues, "I have been officiating at far too many memorial services for my friends and neighbors. Yesterday's, for our neighbor Dr. Alan Bachrach, included an absolutely brilliant 'eulogy' by another neighbor, (recently retired from WBUR award-winning journalist) David Boeri '71. As for me, if my extroverted mom is any indication at almost 99, I'm hoping to stick it out for the long run and keep up my road bike riding. Getting back to the piano is next on my list." Bart's son, George (26), continues as an administrator in the IT department at Harvard Business School daughter Amelia (31) is a vet tech.
Out there in the Midwest, John Rinehart wrote, "I am still actively practicing infertility medicine in Chicago. My wife is a BSN, JD who has her own consulting firm for healthcare risk management. I have stayed academically active by teaching residents, medical students and technically have a title of senior educator at Pritzker School of Medicine, University of Chicago. But I have found data analysis exciting and have just completed a master's in predictive analytics at Northwestern University. Now I just need to figure how to commodity it." John has two grandchildren, a girl and a boy, aged 3 and 1 respectively. He says, "I currently live in Burr Ridge, Ill., a western suburb of Chicago and would welcome visits from classmates if they are in the area. [In addition to that recent master's, John has an M.D., PhD., and JD degrees!]
Out there in Colorado, Mark Fuller (he is still active skiing as reported in an earlier column) has just published his first book entitled Birds of Aspen and the Roaring Fork Valley. Says Mark, "My many years of birding and photography were the impetus for the book, which has been 2 ½ years in the making. I did the photography while my colleague and good friend, Rebecca Weiss, did the text. The book covers 155 species familiar to the Aspen area and includes some rarities and migrants. It features 263 color photos, maps of birding 'hotspots,' and essays on habitat, bird conservation, and birding ethics. If anyone is interested in buying a copy, they can reach me via my FB page, MarkWell Images or by e-mail at fulcon@comcast.net." [In Alaska, the snowbirds leave at the first sign of Termination Dust, but I take it these are real birds.]
We have survived some nasty flooding in April and several near-hits from hurricanes this season. As visible progress finally is occurring on our house-building project under the direction of a new general contractor, we're holding our breath a bit until the end of hurricane season in a few months. Still teaching middle school (computers this year—I call on the nearest 6-year-old for help if I get stuck) and still enjoying marriage to my wonderful wife, Vera, after 31 years, as well as the occasional jaunt with the Kaua'i Jeep Club. Lots of photos on Facebook. Need to market them!
I encourage you to join your classmates who already have declared their intent to attend our 50th Reunion. I'm truly hoping to see a lot of you there. Meanwhile, if you're coming to Kaua'i, let me know.
Russ Josephson | russ_josephson@yahoo.com
P.O. Box 1151, Kilauea, HI 96754