CLASS OF 1983 | 2018 | ISSUE 2
A great big thank you to our Reunion committee for planning the festivities: Cori Adler, Carlton Barnswell, Ben Binswanger, Jeffrey Burack, Michelle Deatrick, Richard Eaddy, Peter Gilhuly, Eve Hall, Paul Halliday, Darrick Harris, Lewis Ingall, Ruth Jaffe, Lisa Mould Kennedy, Tom McKibbin-Vaughn, Megan Norris, Orin Snyder, Kim Beede Soule, Paul Spivey, Adam Usdan, Mike Whalen, Michael White, and Ellen Zucker. I echo the sentiments in their class e-mail: "A good time was had by all. I would like to give a special shout-out to Ruth Jaffe, Matt Ember, and Laurie Ember '84 for receiving Wesleyan's Service Awards and Megan Norris for receiving Wesleyan's Outstanding Service Award" (contact Kate Lynch '82 for the e-mail: klynch@wesleyan.edu).
Ken Schneyer and Janice Okoomian have a college graduate (Phoebe from Marlboro College) and a high school graduate (Arek). Arek will attend Sarah Lawrence College in fall. Ken's latest novelette, "Keepsakes," appeared in Analog Science Fiction and Fact in November. He added an introductory logic course and a criminal procedure course to his teaching repertoire. Janice now uses Reacting to the Past in her gender studies teaching.
Eve Silverman is moving to the Mad River Valley in Vermont. Son Alex finished sophomore year at Tufts and daughter Libby will be a high school senior. She is looking ahead to the next chapter of empty nest life and is getting geared up to start a new career in wildlife conservation.
Kirsten Wasson is finishing a memoir about her midlife move to the West Coast. See her work at storytelling venues around LA. Find her hiking in the Santa Monica Mountains, camping in the Sequoias, walking the beaches of Malibu, and eating trendy fermented food in dark and silly spots around town. Weekends are spent with son Noah, who is recovering from addiction.
John Fixx is serving his third school, Country School (Madison, Conn.) as headmaster and cross-country coach. Living 20 minutes away from Middletown, John trains with alumni runners at Wes. He says, "Foss Hill is steeper than it was during the early 1980s!" Wife Liza owns Breakwater Books, an independent bookstore, in Guilford, Conn. Son Nat is an admissions officer at Belmont Hill School in Boston, and daughter Emily is a behavioral interventionist at Essex High School in Vermont. John wrote a children's book, Things That Aren't, illustrated by Abby Carter.
Anne Adelman's edited book, Psychoanalytic Reflections on Parenting Teens and Young Adults: Changing Patterns in Modern Love, Loss and Longing, came out in March from Routledge. Anne lives in Bethesda, Md., and has a private psychotherapy practice.
Susanna Sharpe works for the Latin American studies institute and library at the University of Texas at Austin. She loves getting to know the activist-scholar students and publishing faculty and student writing in the annual review. She performs Brazilian music in Austin and lends her voice to the immigrants' rights movement. She is the extremely proud parent of two student-musicians at the University of Texas Butler School of Music, Corina Santos (violin, '19) and Paulo Santos (jazz saxophone, '21).
Mark Kushner started an ed-tech company to help worldwide teachers teach better and save time by providing student online assessment data. He has two kids.
Jan Elliott has pieced together a career in teaching and performing. One foot is in early classical music, the other in folk and world music. She dances, plays, and coaches for several groups specializing in traditional Morris and sword dancing from England.
Mary Becker lives in Yarmouth, Maine. She is a partner in a physician group doing emergency medicine and palliative care. Her passion is improving communication skills between health care clinicians and patients and families with serious illness.
Anath Golomb is a clinical psychologist in New Hampshire, and David Frankfurter is chair of the religion department at Boston University. His fourth book, Christianizing Egypt, came out last fall. Son Rafael is in an MD/PhD program at Berkeley/UCSF and daughter Sariel will pursue a PhD program in dance at Stanford.
Stuart Servetar will be at Wes for Sons and Daughters Weekend with Kid 2. Kid 1 chose the University of Chicago instead. Wife Beth will start her second year as parent coordinator at East Side Middle School. Karen Adair Miller and classmates Tammy Rosengarten Darcas, Sue Stallone Kelly, Barb Bailey Beckwitt, and Gretchen Millspaugh Cooney got together in June. Shana Sureck had really hoped to attend Reunion, but as a photographer, Memorial Day weekend is one of her busiest weekends of the year.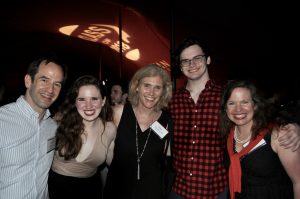 Amy Appleton sent in a beautiful family photo. "From left to right, my brother, Bill Appleton '88, my daughter, Charlotte Sarraille '16, my brother's wife, Jane Donahue '88, my son, Ben Sarraille '19, and myself, Amy Appleton."
Megan Norris wrote, "It was great to see so many old friends at our Reunion . . . Weather ranging from 93 without a cloud in the sky to 53 with a cold drizzle made for many wardrobe changes, but Anita Hill challenging the graduating class to speak truth to power made sitting in the rain worthwhile."
After completing these class notes, Laurie Hills feels quite ordinary with three relatively happy 20-somethings. She is five years post-divorce and back in the light, and is a data analyst at Elizabeth Public Schools in New Jersey.
On a final and sad note, classmate Daniel J. Taub passed away on April 11. After graduating from Wesleyan University and the University of Chicago Law School, Dan practiced law in Chicago as a guardian ad litem for abused and neglected children before relocating to Vermont in 1992. Dan leaves behind his wife of 39 years, Jean Bacon, and his daughters, Lily and Claire Taub.
Laurie Hills | lauriec@rci.rutgers.edu