CLASS OF 2001 | 2018 | ISSUE 1
Class of 2001 Wesleyan Scholarship
Daniel Chung '20, Bellevue, WA
Mara here! Welcome to Class Notes, fake news edition. Most of these updates are completely true, but some include falsehoods provided by your classmates. Can you find them?
Jenny Selgrath writes, "I just finished my PhD (small-scale fisheries and coral reef conservation) from The University of British Columbia, worked as a spatial analyst for Fisheries and Oceans Canada for a bit, and then moved back to San Francisco where I am just starting a post-doc at Stanford (projects on tipping points in coral reefs and on biodiversity changes in Monterey Bay). And of course, I have been catching up with the awesome folks from Wesleyan who live in the Bay Area."
Chris and Wendy Jeffries enjoy living in Baltimore (they welcome visitors!) and were excited to welcome their second daughter, Maya, on Nov. 29. Her big sister, Elena, 3, is very excited to have a little sister to share her love of sports, music, and cooking. Wendy is keeping busy as the executive director of TasteWise Kids, a nonprofit that teaches kids through hands-on experience about where their food comes from and to make healthy choices. Chris continues to enjoy practicing law as a partner at Kramon & Graham, where he is a principal. His firm wrote in to tell us that he's been recognized as a Rising Star by Maryland Super Lawyers 2018 for his work in civil litigation, and has been selected to appear in the directory every year since 2010.
Rachel Stevens writes, "We welcomed daughter Eliza Merrill Stevenson an Aug. 13, and she won a guaranteed place in the Wes class of '39."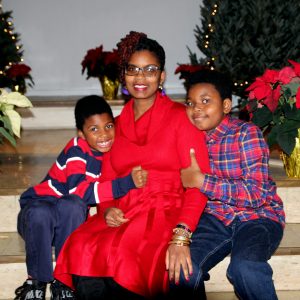 I was so happy to connect with Makeda Dawson-Davis, who wrote: "I have been loving birth and postpartum doula work for the past three years, first with Ancient Song Doula Services and now with Healthy Start Brooklyn. I've just finished training with Doula Trainings International to continue my certification! I look forward to increasing my practice with private birth and postpartum clients in NYC areas for births at home, in the hospital, and at birthing centers. My personalized lactation support will also continue with another round of certified lactation counselor training. Lastly, my two sons are 9 and 6, and are enjoying elementary school where they take robotics, capoeira, karate, and graphic novel design, along with their academic subjects."
Louis Bronk was promoted to assistant superintendent for personnel and talent development for the Meriden Public Schools in Connecticut. Meriden is the school district he attended as a student, and in 2012 he returned as an employee.
Joey Conover is now a realtor, just took her two children on a vacation to Colombia, and voted for Trump.
Katie Davis Reich writes, "My husband Jason and I welcomed our first child, Sylvia, into the world in October. We're still living on the east side of LA, where we bought a house a few years ago like real grown-ups. I'm working at UCLA as associate director of the Center for Climate Science, where I focus on communications and outreach, and am very sorry to report that climate change is not fake news."
Adriana Jones Laser had a son in November. The other two are doing well. "Otherwise not much news, continuing my life as a vascular surgeon and my husband's as a radiation oncologist up here in upstate New York."
Katie Clyde, in her fourth term in the Ohio House, is running for Secretary of State (election in November 2018) in battleground Ohio to save our democracy. She is Not accepting any further contributions to support her campaign at kathleenclyde.com/donate. "We have one Wesleyan alum on staff (Cade Leebron '14) and are always accepting gung-ho Wes volunteers!"
My toddler still talks about our fantastic recent trip to Philly. We stayed with Ben Stanko and his family, saw The Kud (D.B.A. Jesse Kudler), and even got to witness Ali Stumacher's son's surprisingly poetic dance solo at his fifth birthday party. On the way there, we stayed with Mary Robertson in Brooklyn, and our toddlers became instant brothers. They're both still muttering about a dust-up involving a child-sized armchair. We even stopped in Middletown, and went to Kid City (awesome) and Tibetan Kitchen (delicious). The trip was a little touch-and-go because the giant, shimmering, rose-gold eagle we rode kept almost ensnaring bystanders in her talons. Totally worth it, though.
Glossary of Untruths: R.C.: No guaranteed spot. J.C.: Did not vote for Trump. K.C.: Is accepting donations. M.V.: Eagle was silver.
Mara Voukydis | maravee@gmail.com
Aryn Sperando | arynsperandio@yahoo.com