CLASS OF 2004 | 2017 | ISSUE 3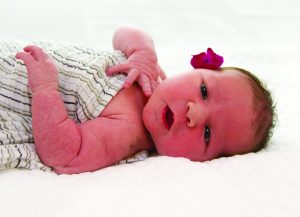 Mariah Klaneski Reisner, husband Sam, and daughter Aviva are pleased to announce the birth of Zohana Grace Reisner. She was born June 19, 2017, at 8:02 a.m., weighed 8 lbs., 7.5 oz, and was 20.5 inches long.
Meanwhile, Carl Cervone lives in Brooklyn with wife Kidist and their 3-year-old son, Lucas. Carl finished an MBA at Columbia and runs a startup nonprofit called Enveritas that verifies sustainability practices in coffee supply chains.
Sarah Colao Wallach reports some wonderful news after taking a bit of a break from sharing some news: "Dan Wallach and I (and big sister Zoey) will be celebrating the first birthday of our second child, Maisy, this month. I changed jobs within my organization earlier this year—moving out of the general counsel role and into the chief operating officer role at the Massachusetts Clean Energy Center, whose mission is to grow the state's clean energy industry."
Finally, Jenina Nuñez shares some of her own news: stepping into a new role as director of communications at global advertising firm Foote, Cone & Belding in Chicago. Jenina's appreciating the new role's fast pace and working in a creative-first environment everyday.
Congrats to everyone for the growing families and wonderful career moves! Do you have an update for an upcoming issue? Don't forget to send them along to us.
Jenina Nuñez | jenina.nunez@outlook.com
Meeghan Whooley Ward | meeghan.w.ward@gmail.com