CLASS OF 1985 | 2017 | ISSUE 3
Hi, it's Caroline writing this time.
Hilary Jacobs Hendel wrote in: "It has been an exciting year. I have a child who is graduating from Wesleyan this May. I became a step-grandmother. And, the New York Times article I wrote on depression and shame in 2015 led to a book that Random House is publishing in February 2018. The book is called It's Not Always Depression, and, so far, it is also being published in the UK, mainland China, Taiwan, and South Korea. I am passionate about sharing education on emotions. I also started a blog on emotions with stories, education, and tips for wellness." You can find Hilary on social media and visit her website for more on emotions, mental health, and wellness (hilaryjacobshendel.com).
Linda Friedner's work intersected with Hilary's: "As in-house counsel at Penguin Random House, one of my jobs is pre-publication review of non-fiction manuscripts. When I saw that our Spiegel & Grau imprint was publishing a book by Hilary Jacobs Hendel, I immediately said I wanted to work on it. The only thing that would have been better than my phone conversations with Hilary would have been if we could have had them sitting on Foss Hill."
K.T. Korngold also has some exciting news: "I'm traveling to Vietnam in November to hold a five-day workshop for Montessori teachers. My organization, the Center for Montessori Education|NY, was the first to offer an American Montessori Infant and Toddler Teaching Credential and we hope to soon bring that training program to Hanoi. It looks like I will be training 100 folks with the workshop in November! We'll be working with a translator, which is a challenge and a thrill. It certainly requires precision. While most of the participants are coming from Vietnam, we do have a few Americans flying over to attend the workshop."
I heard from Jeanne LaVallee that her daughter, Frannie, is "thriving" as a junior at the UN International School and that her niece, Ciara O'Flynn '20, is attending Wesleyan. Jeanne runs a nonprofit, Apple Village Arts, Inc., an afterschool studio arts program for children in the East Village.
Scott Sager writes: "My oldest daughter, Maia Nelles-Sager '17 just graduated  and has moved out to LA to work in the film industry. Having her at Wes was a great experience for us and gave me an excuse to spend time on campus and reconnect with the place. My younger daughter, Calla, is in her second year at Wellesley College. My wife and I and the dogs live in Brooklyn, where we've been for a really long time. We got to spend a beautiful fall weekend in Vermont with John LaCrosse, whose daughter, Thea '21, started her first year at Wes in September."
Paula Kay Drapkin is "living in upstate New York in the beautiful Catskill Mountains. I have been married to Jonathan Drapkin for 23 years and we have two great kids. Jack is a fourth-year at Northeastern University in Boston, and my daughter, Jordan, is a second-year student at The Ohio State University. Seeing them at school brings back so many great memories of Wesleyan for me." Paula is an attorney with her own practice; she's really busy, but tries to "get to Cape Cod as much as possible."
Charles Barber is a visiting writer in the College of Letters; he claims that he is "hardly a true member of the class of 1985, having only attended Wesleyan for a year-and-a-half, but I have perhaps made up for this by teaching writing, part-time, in the College of Letters, as well as stints in the psychology department and the Allbritton Center, for the last six years. Wesleyan is much changed physically and culturally—far more cosmopolitan, international, wonderfully diverse—and the students, certainly, did far better on their SATs than I ever did." Charles is working on a new book, Citizen Outlaw: A Gangster's Journey, that will be published by Ecco (HarperCollins) in the next year or two.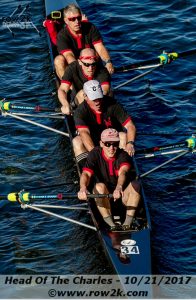 Wesleyan was well-represented at the Head of the Charles Regatta in October with Terry McClenahan, Dave Myers '82, Mike Greenstein '82, Greg Lewis '82, Paul Slye '84, Tom Policelli '89, Steve Bragaw '88, John Wiseman '86, Kelem Butts '89, Alex Thomson '82, Phil Brackett '81, Kevin Foley '82, and Rob Miller '82 participating together. Terry wrote, "We had a complete blast racing in the Head of the Charles Regatta this Saturday, October 21, in exceedingly beautiful October weather. Our Wesleyan crew raced as a Men's Sr. Masters Four the event is for rowers over 50 years old. We placed placed 39th of 45, not too bad considering we'd practiced together once.
"I got to row with three of my best friends of all time, who I've known since freshman year. In aerial photo attached the start line is the basin at the upper right, the finish is outside the photo, past lower right. So the Charles River really curves a lot. Most spectators hope to see a few collisions.
"A real bummer: we clashed oars with another boat and our cox-box speakers cut out halfway through the 5k race. A boat had passed us—but then cut across our bow. What were they thinking? Our cox, Wesleyan sophomore Betsy Cole '20, was simply amazing, steering the twisting course like a true expert. She comes from Boston so she literally knows all the good steering angles.
"So sadly without the amplifier we couldn't hear her instructions. (We raced a lay-down four. The cox lies in the bow to distribute their weight more effectively, but faces away from the rowers.) And Wesleyan entered a Men's Alumni Eight, guys who graduated the early and late 1980s. Racing against much younger teams, they placed ahead of a Middlebury crew." More photos here.
I was relieved to see a post from Jaime Tome on Facebook after Hurricane Maria tore through Puerto Rico. Jaime, who lives in San Juan, said that his home and family had weathered the storm all right, but "the landscape outside is unrecognizable." Communication is sporadic, but I know Jaime would appreciate his classmates' good thoughts (and actions, if you can) for Puerto Rico's recovery.
CAROLINE WILKINS | cwilkins85@yahoo.com
MARY BETH KILKELLY | mbkeds@yahoo.com