CLASS OF 1960 | 2017 | ISSUE 3
In June family and friends held a luncheon to celebrate the lives of Dick Huddleston and Charlie Smith and to dedicate the Huddleston Lounge in Downey House and the adjacent Smith Patio so that they would be forever memorialized on the campus they loved so much. The mood was bittersweet, as Barbara-Jan Wilson remarked, and celebratory. Spouses Lindsey Huddleston and Rita Smith spoke of how much Wesleyan meant to their husbands. Alan Wulff read a list of the 34 classmates who have died since 1959. Bob Williams, Tom McHugh '59, Dave Hohl, and Chuck Olton reminisced about our days on campus in the '50s.  It's only fitting that these two close friends and extraordinary Wesleyan fundraisers were honored together.
Dave Larrouy expressed his sadness at the passing of Dick and Charlie. Dave and Maxine are enjoying his 25th year of retirement from Ford.
Nici and John Dobson had a wonderful month in the Dingle and Connemara areas of Ireland. It was great fun for John to return to the land of his heritage. He reported that their vacation home in Virgin Gorda received significant damage from Hurricane Irma, but parts of it are still standing.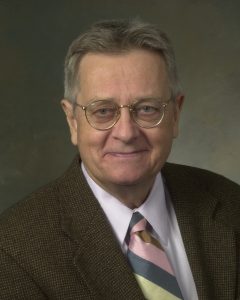 Dan Nebert and his wife, Lucia Jorge, have retired to Charbonneau, Ore., which is mostly a retirement community enclosing three nine-hole golf courses. His career in medicine, pediatrics, genetics, and genomics now spans 57 years and is still going on. As a physician-scientist, he is semi-retired (still spearheading a genetics training grant at the University of Cincinnati). Congratulations to Dan on receiving the R. T. Williams Distinguished Scientific Achievement Award from the International Society for the Study of Xenobiotics. In addition, he was notified by the Google Scholar Citation Committee that he is among the "Top 640 Most-Cited Scientists/Authors" in all fields of study, from 1900 to the present.
Jack Fowler continues as senior research fellow at the Center for Survey Research at UMass Boston. Jack has made significant contributions concerning social research methods, medical outcomes, and medical decision making. He was selected this year to give a heritage interview for the American Association for Public Opinion Research which provides insight into his career. It can be viewed here.
SAL RUSSO | salandjudy@hotmail.com
2700 Kentucky St., Bellingham, WA 98229