CLASS OF 2004 | 2017 | ISSUE 1
NEWSMAKER
GREGORY HELLER '04

Gregory Heller '04 was named one of Urban Land's 40 Under 40. This award highlights the best young land-use professionals from around the globe, as selected by members of the Urban Land Institute (ULI). ULI is a member-supported nonprofit research and education organization dedicated to providing leadership in the responsible use of land. Heller is the executive director of the Philadelphia Redevelopment Authority. He recently published Ed Bacon: Planning, Politics, and the Building of Modern Philadelphia and spoke at a TEDx conference. While at Wesleyan, Heller was an American studies major with a concentration in German studies.
The Class of 2004 continues to share some great updates on work, family and travels!
Sohana Punithakumar is living in Seattle and working for Microsoft. She recently joined the HoloLens Product Marketing team and is excited to be focusing on the world of mixed reality!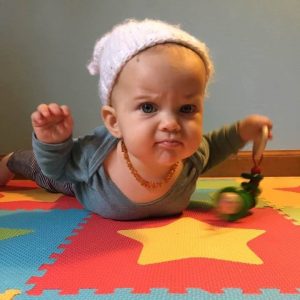 Kendra Rosa and Zachary Nusbaum welcomed their daughter, Isadora Jane Nusbaum, to the world in May. She is ferocious.
Chris Kaminstein and Laura Stein '03 got married last April in New Orleans. They run arts organizations and have a beautiful community of people down here in the Crescent City.
Aja Gabel writes, "My debut novel, In Common Time, will publish in early 2018 on Riverhead Penguin Random House. It's a love story about a professional string quartet, and follows each member during the course of their entire career. I also sold the film option to my apocalyptic short story to the producers who made the films Midnight Special, Loving, and La La Land. Other than that, I am still working as a copywriter at Huge in Portland, Ore."
Brian Hennessey writes, "I've just wrapped up two years of living in Paraguay working in telecom. My Spanish is better than ever and am a true believer that Paraguayan asado beats Brazilian, Uruguayan, and Argentinian hands down. My company has rotated me back to the Miami office, so if anyone comes down, they should drop me a line."
Adam Faris writes, "After 10 years in the Atlantic City casino industry, I pursued my passion to become a certified personal trainer. I rented a building, outfitted it with equipment and officially opened P.O.H. (Pursuit of Happiness) Personal Training and Fitness LLC in Turnersville, N.J. in 2014. Specializing in functional training, strength training, weight loss, and making human beings move like they are supposed to, P.O.H. has already built a strong fitness-based community in the South Jersey area and is rapidly growing. I go to work at 4:45 a.m. on a Monday morning and am genuinely excited about getting the day started!"
David Bloom married Ritza Emmanuelle Calixte at the Wayfarer's Chapel in Rancho Palos Verdes, Calif. Wes and fellow Quasimodal alumni James Schoen '05 and Jed Rosenbaum '02 were in attendance. After a lovely celebration, he returned to his craft, teaching theater at the Chadwick School in Palos Verdes Peninsula, Calif.
Adam Hodge left the U.S. Department of Treasury, Public Affairs and returned to the DNC as communications director for the general election. His son, Owen, is 15-months old and loves hanging with uncles Rich Renzi, Zach Lampell, and Dan Moger '03.
Zil Jaeger and her wife, Violeta, had their first baby. They are excited to move to Portland, Ore., next summer where they've bought a home close to Logan Wright and his partner, Maggie.
Jenna Flateman was recently the youngest Wesleyan Athletic Hall of Fame inductee this year.
Josh Pelletier and his wife report back from the trenches of new parenthood on the wonderful Presley. "Every day is magical with her, watching her grow, smile, seeing her discover new things about the world, and develop skills that seem to bring her joy. It's inspiring to live with someone who really only knows how to live in the moment; It has allowed us to slow down and live in these moments with her. Having a child is really a wonderful teacher and we are so grateful to have her in our lives."
Meanwhile, Jenina Nuñez continues to enjoy living in the Windy City working for McDonald's Corporation at their global headquarters. She's also discovered a love of running, having completed her first half-marathon in the fall of 2016 and curling up with her Chihuahua mix, Marley, in her downtime when she gets a moment.
Jenina Nuñez | jenina.nunez@outlook.com
Meeghan Whooley Ward | meeghan.w.ward@gmail.com