CLASS OF 1978 | 2015 | ISSUE 1
Susie writes: As I pen this missive, I'm gazing out at an historical amount of snow on the ground—six-foot drifts, colossal piles from plows, and a general depth of ground covering not before seen. We New Englanders, especially those of us in the Boston area, will remember the winter of 2015 for many years to come! Although these notes will be published in the springy month of April, there will most likely still be snow on the ground.
Doug Hardy sent in his first ever news for our class notes. He married Roselyn Romberg '79 25 years ago. Although they had dozens of friends in common, they did not meet until 10 years after graduating from Wesleyan. Their mutual friend, Alice Dunn '79, married Doug's twin brother, Gordon Hardy, Williams '78. Roselyn and Doug live in Concord, Mass. They adopted three siblings from Russia in 1998, followed by 17 years of family life that Doug says "you can safely describe as eventful—those of you who have raised kids with PTSD know what I'm talking about." He is a former editor at Alfred A. Knopf (books), the New York Times Co. (magazines), and several Internet firms (last one was Monster.com). Since 2002, he's been writing full-time, mostly books and mostly "human capital" subjects—management, labor, recruiting, and career. Roselyn was a management consultant at several firms and currently coaches fellows at Harvard's Advanced Leadership Initiative and helps nonprofits get under way through her consulting firm, Vision Accomplished. The Hardys have stayed close to Joe Keneally, Mary Rindfleisch '77, Elizabeth Sanders '79, Elizabeth Bachman, and all the pals at Mark Ginsberg's '79 pre-Thanksgiving dinner, celebrating its 40th anniversary this year! They would love to hear from more friends.
Kevin Rose shared the happy news that his son, Danny, was recently accepted ED1 to Wesleyan and will be attending this fall. The Rose family looks forward to returning often to campus.
In January 2015, Bill Adler moved to Tokyo, where he continues his career as a writer. but now he's doing it with a diet of ramen, nabe, and, of course, sushi. His bedroom view of Mt. Fuji is proving to be inspirational to his writing. His older daughter works in book publishing in New York, and his younger daughter graduates from college this year. If any classmates visit Tokyo, please let him know and he'll show you around his new town.
George Raymond has entered his 12th year as an independent consultant based in Basel, Switzerland. He is helping market a system that lets small European railways exchange data with big ones along with a cool machine that lays fiber-optic cables along railway tracks.
Jon Spector is continuing to enjoy his move to Woodstock, Vt., and the commute to NYC via Cape Air. He is still working for The Conference Board, along with other Wes alums, Dick Cavanagh '68 and Alan Dachs '70, who serves as the chair of The Conference Board.
Besides continuing to peddle/play/curate concerts in the US and France (MistralMusic.org), Julie Scolnik and her husband, Michael, bought a little maison de village in one of the most beautiful villages in Provence. "The closest thing to heaven I can imagine," she writes. It is available to rent on vrbo.com/300210, and they have special rates for all Wes alums.
Andrea Gabor wrote: "In January 2015, I led 11 Baruch College/CUNY journalism students to Cuba as part of a class on covering emerging entrepreneurship in that island nation. The purpose of the trip was to report on the recent economic changes instituted under President Raul Castro, especially in the new small-business sector of so-called cuentapropistas, which now number close to 500,000 Cubans, triple the number in 2010. We arrived just weeks after President Obama and President Castro announced their historic détente, which will open Cuba to more American goods and visitors and which established formal relations between the countries. These changes are likely to have a profound effect on the Cuban economy. Whether they will spread to the political arena is less clear.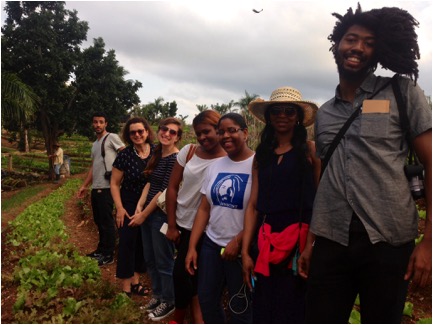 "My students learned about the emerging entrepreneurial sector and the vagaries of being an entrepreneur, or cuentapropista, both through Cuba Emprende, a private nonprofit that helps train entrepreneurs in Cuba, and from small family-run businesses. These businesses ranged from restaurants to companies like Nostalgiacar, which operates a car service and refurbishes vintage automobiles, to a party planning company. We stayed at Casa Vera, a guest house for foreign students and at La Finca Marta, an experimental sustainable farm that supplies many of Havana's top paladares, or private restaurants. The lessons learned for both me and my students were profound." (See a photo of Andrea and her students: classnotes.blogs.wesleyan.edu/class-of-1978/.)
Please e-mail Ken and me updates on your family, projects, volunteer service, career, travel, adventure—any news you'd like to share. Maybe there are others of you like Doug Hardy, who will send in your first-ever news!? We hope so. Wishing everyone the very best from snowy Duxbury,
SUSIE MUIRHEAD BATES | kmkramer78@hotmail.com
Ken Kramer | sbatesdux@hotmail.com